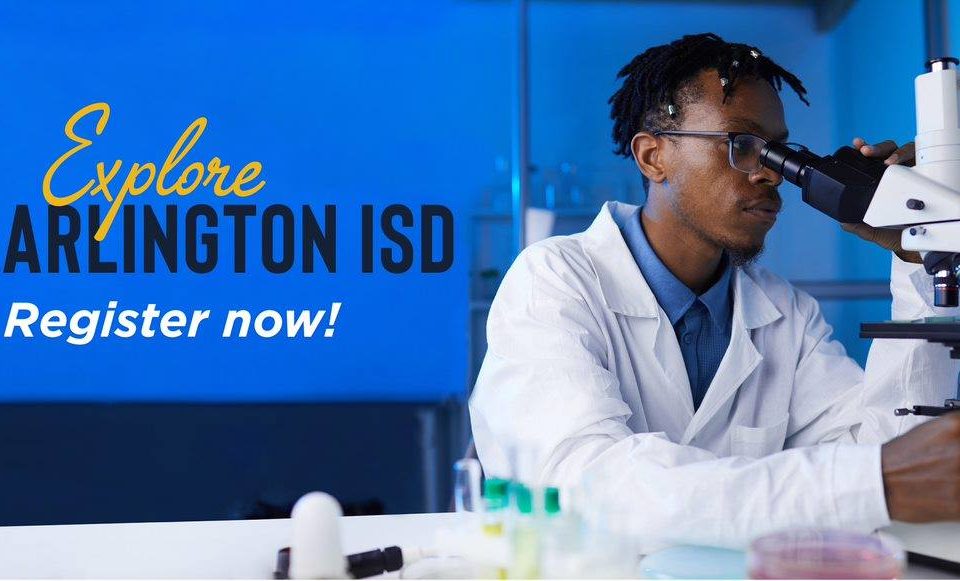 Elementary specialized program applications open now
When the Arlington ISD is introducing its specialized educational offerings for students we usually begin with the most pertinent news first: free.
Free as in college credit. Free as in packing in a couple of years of college without serving up a dime.
Free as in bypassing college completely and instead gaining a workplace certificate to leap straight into the workforce with a livable wage and a nice chance at a future promotion.
Third Early College High School Coming Soon
When students signed on to learn about the district's specialized programs in Explore Arlington ISD, the virtual version, many were introduced to Bowie P-TECH, as in Pathways in Technology.
P-TECH is Arlington ISD's latest open-enrollment early college program that, in a nutshell, brings together the best elements of high school, college and the professional world.
Watch this video to learn more about P-TECH
Assistant principal Brandi Johnson and guidance counselor Teresa Sandoval told students and parents over Zoom that the hallmark of P-TECH, which begins in the fall of 2021 in a wing at Bowie Howie High School, will have a special focus on career. Students will be able to follow four pathways in medical billing and coding, optometry, pharmacy technician and central processing.
Much like the STEM Academy at Martin High School, P-TECH will be a school within a school with its own dual credit teachers and adjunct professors. First-year enrollment will be 125 with the same number added each year until a max capacity of 450 is reached.
What makes P-TECH different from what is offered through the district's Career and Technical Education (CTE), Arlington Collegiate High School at TCC-Southeast or Arlington College and Career High School?
Before the event, Johnson put it this way: "When we are little, most of us say what we want to be when we grow up, like a doctor. Sounds great, right? But later you learn that's 10 years after high school. Most of us are not financially set up for that. So, we must make little goals for ourselves. P-TECH gives you that."
Basically, P-TECH enables students to begin their college and professional lives quicker and with more support than the typical school-to-work path. Students can leave school with the skills and knowledge needed to either continue their studies at a university or walk into a professional job.
P-TECH specializes in aiding underserved students who might otherwise not go to college or seek a post-high school career at all. After graduation, students will be marketable for high-demand, high-wage careers because they will have gained work experience through internships, apprenticeships and a myriad of other job training programs thanks in part to Arlington ISD partnerships with regional businesses and industries including Medical City Arlington which will be the district's industry partner for the program. 
"Our classrooms will not be normal classroom settings – they will look more like labs," Johnson said. "While CTE focuses on junior and senior level practicums, here students will start in their freshman year. The best part is that, unlike the collegiate high school, the students will be able to enjoy the extracurriculars that Bowie offers. It's like having the best of all worlds."
In other words, P-TECH students will be able to play sports at Bowie, sing in the choir, be a part of Key Club.
Of course, students yearning for a leaner academic approach can still opt for Arlington Collegiate at TCC.
Dual Languages, Fine Arts and STEM Programs Available
Explore Arlington ISD provided parents and students with a more personalized window to the specialized programs by speaking directly to representatives, via Zoom. Corey and Jones academies of fine arts and dual languages were both online, as were Crow Leadership Academy, Pearcy STEM Academy, Wimbish World Language Academy, Arlington College and Career High School and the STEM Academy at Martin High School.
Staffers from Dan Dipert Career and Technical Center as well as AISD's Pre-K program were also online to plug their various curriculums.
Bonjour
Everyone was just a click away. Principal Manuel Trevino touted Wimbish World Language Academy, where students can become bilingual and biliterate, as a smorgasbord of culture.
"Students can immerse themselves in their choice of dual language tracks," he said, in French and English or Spanish and English. (At Jones, you can even learn Mandarin).
In an online video, Wimbish teacher Matthew Nelson said how Wimbish, "gives you a leg up on peers, both culturally and economically. They'll have an advantage over someone who just speaks English, and that will allow them to work with different countries all over the world."
Learn more about Wimbish World Language Academy 
You can find out more about all our specialized programs here. And our application window for elementary specialized programs is open NOW!