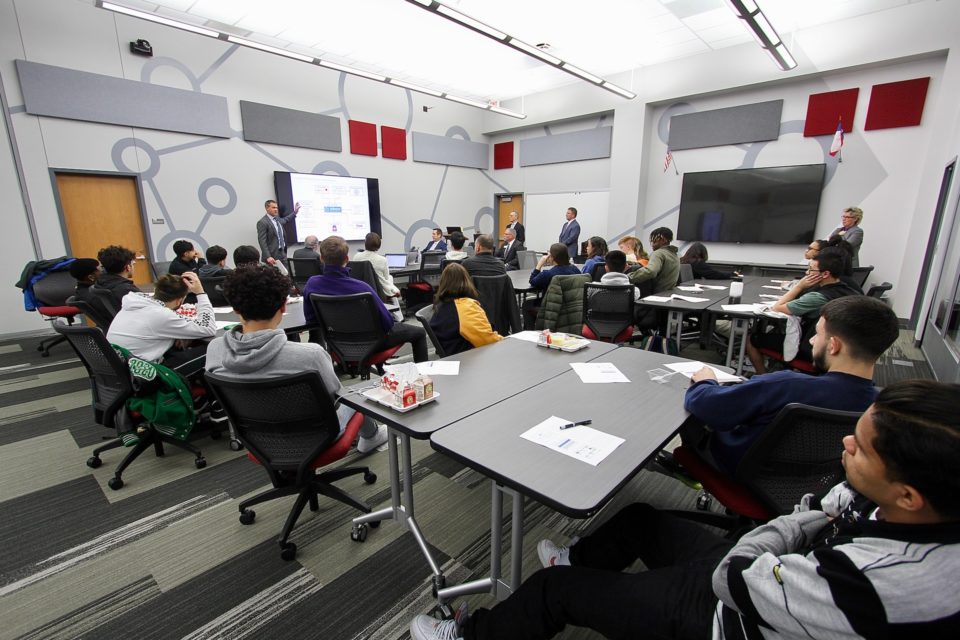 Arlington ISD high school students got a unique glimpse into the world of public finance Wednesday during the first sale of bonds for the district's $966 million 2019 Bond program.
The sale turned into an educational experience when Seguin High School AP economics students joined students from an entrepreneurial class at the AISD Career and Technical Center to watch the sale live online through Ipreo Gameday, a live investment order monitoring platform.
As the sale progressed, representatives from Hilltop Securities, the AISD's financial advisor, Raymond James, the 2019 Bond underwriter, the district's bond attorney, and AISD CFO Cindy Powell explained the bond sale process, described the world of public finance and offered advice to those interested in financial careers.
Powell opened the event with a description of the bond program and then an explanation of what was happening that morning.
"Today the AISD is selling $311 million of bonds," she said.
The sale will provide funds for projects in the first year of the five-year 2019 Bond program.
Students watched the progress of the sale live on the large screen while Raymond James and Hilltop representatives provided play-by-play and explained the sale process and the various numbers and colors on the screen.
They also explained that their role is to get the best situation for the AISD. The more buyers they can successfully market these bonds to, the lower they can set the interest rates, which is better for the district.
During the live portion of the sale, potential buyers indicated their desire to purchase $5,000 increments. Most buyers were institutional, but individuals put in orders as well.
"Arlington ISD bonds are about as safe as you can get," Nick Papan, of Raymond James, said as he explained why demand for these bonds is strong.
The AISD has very strong credit scores (Moody's Report, S&P Credit Rating), and all Texas school district bonds are guaranteed by Texas' State Permanent School Fund, which has the highest possible credit rating.
As the clock on the sale ticked to zero, the conversation shifted to career advice.
"Finance is so technology driven and quantitative based," George Williford, of Hilltop Securities, said to the students.
He told them to learn as much about technology as possible.
AISD's bond attorney presented a legal perspective as he described his background and how he assisted with the election process for the bond. He told students that he took accounting in college, along with his liberal arts studies, and that it paid dividends as he entered the financial side of the legal profession.
Papan offered more insight into public finance.
"This is just a slice of finance," he said.
There are all kinds of jobs in finance for all kinds of people, he said, and students should focus on their interests and talents.