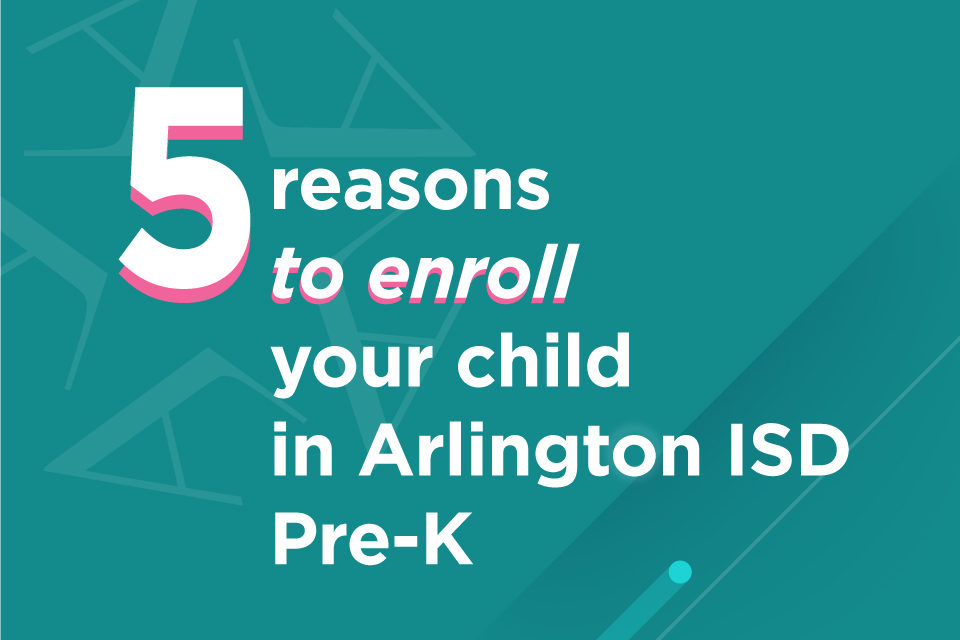 Five reasons to enroll your child in Arlington ISD Full-Day Pre-K
1. Arlington ISD Full-Day Pre-K gives your child an edge.
The jump from home to kindergarten can be daunting you and your child. Enrolling your student in Pre-K can take some of that concern away. According to a Raise Your Hands Texas study, children who attend any type of preschool program are more likely to be ready for kindergarten than those who don't with a foundation in literacy, language and early math concepts.
2. Real-world experience awaits your child in Pre-K.
You think your child is too young to start school? Think again. While Pre-K is fun and there's recess and everything else you'd expect when you send your student off to school, there's more to it than that. Your baby is already getting a taste of STEAM (science, technology, engineering, art and math) and they begin to use technology as well.
3. Cutting-edge Pre-K teachers.
Your child is going to Pre-K to have fun and learn. And the Arlington ISD has put plenty of resources into the Pre-K curriculum. Last summer our Pre-K teachers were at one of the largest early childhood conferences in the state as the district rolled out a new research-based Pre-K curriculum and created a task force. Our teachers receive training throughout the year with a focus on emotional, social and academic success.
4. Full Day Pre-K may be free for your child.
You may be eligible to send your child to Pre-K for free if you meet certain eligibility requirements. Among those eligible include families that qualify for free and reduced lunches, children of active military members and children who have limited English proficiency.
5. Full-Day Pre-K will be fun. Trust us on this.
Yes it's important for your child to go to Pre-K to get a head start on their education. But in addition to learning, your child will have plenty of time to have fun. They're going to make friends that they'll carry through their Arlington ISD careers. They're going to play in engaging centers. They're going to pretend to cook. They're going to have recess. They're going to sing.
Those are just five reasons, but there are plenty more. Come join us in the Arlington ISD where Big Dreams Start Small. For more information on free full-day pre-k, visit www.aisd.net/prek