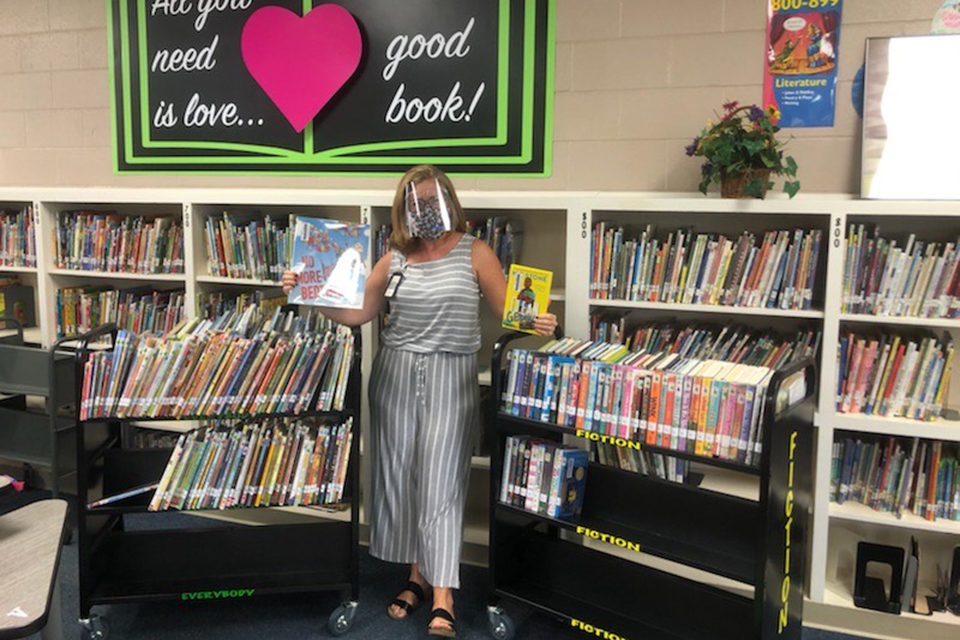 Online students can check out books, too
Schools are open to students again, and that means greater access to school libraries. But it's not quite back to business as usual. The amount campus libraries can reopen will hinge on the number of students on campus. No matter what though, the libraries and librarians will be – and always are – ready to support all of our students and teachers.
"Librarians are excited to continue supporting our students whether they are coming to campus or continuing with their online learning," said Julie Moore, Arlington ISD library media services coordinator.
Here's what you need to know to take full advantage of the libraries:
1. You can check out print books
Whether the libraries are open for students to enter or not, you can check out print books. Reserve books through Destiny and then either pick them up at the library or your librarian will deliver them to your classroom. At schools where the libraries are not open, librarians will visit classrooms with carts of books that you can check out.
2. Online students can check out books, too
Students who are going to school online are welcome to come to the school during the "Open Checkout" time to pick up books. All safety protocols will be in effect during this time, and students and parents will have to sign into the office prior to visiting the library space. Visitors must wash their hands/use hand sanitizer prior to entering the library and masks are required. Check with your librarian for "Open Checkout" times.
3. Hand sanitize and social distance
If your library opens for small groups of students, make sure to use hand sanitizer before you enter and maintain social distance from others. If the library isn't open for students, librarians will visit classrooms with carts of books. You will need to use hand sanitizer before handling any of the books on the cart.
4. Libraries are open virtually 24/7
School libraries have a plethora of online resources and e-books that any student can access from anywhere anytime. To access your school's library, visit destiny.aisd.netand select your school. Scroll to the bottom of your school's library page for a link to all the logins and passwords for the digital resources.
5. Librarians are available to help
Arlington ISD librarians offer all kinds of support to both teachers and students and they are always willing to help. Many have virtual office hours, and all are accessible by email. Email addresses are posted on your school's library webpage in Destiny.
In addition to Arlington ISD libraries, Arlington Public Libraries offer many great resources as well. All Arlington ISD students can access online resources and check out books at the local branches with their lunch numbers. All six local branches are currently open, and the Downtown location is scheduled to open Thursday. Learn more.