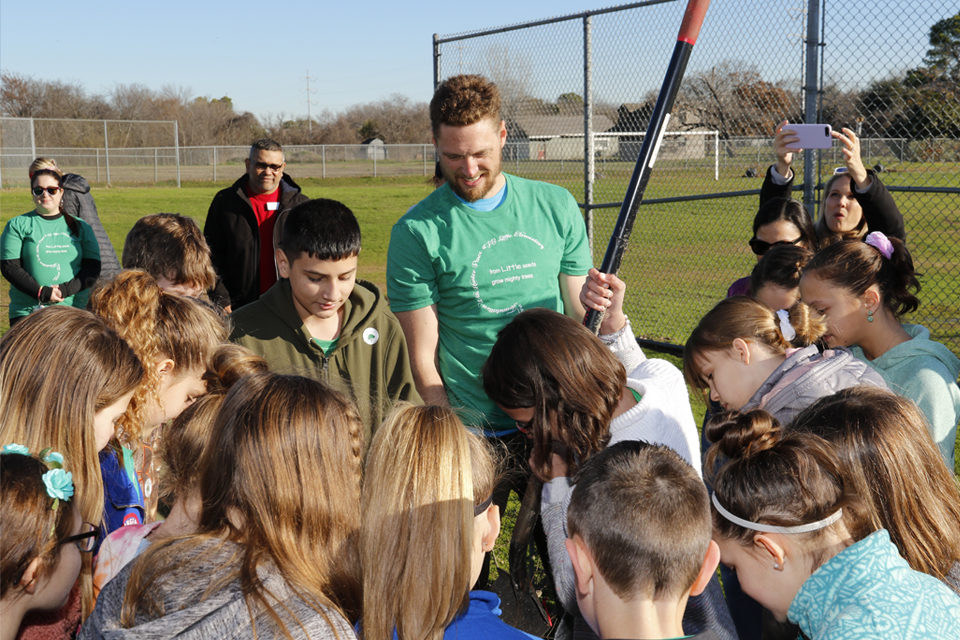 Hunter Pence may be one of the most famous recent graduates of the Arlington ISD but in his return to the district Friday he found out where he stood in the pecking order with students at Little Elementary.
Pence was back at Little, where he went to school in the fifth and sixth grades before going to be a major leaguer with four All-Star Game appearances and two World Series rings, as part of the Texas Trees non-profit organization. Pence and his wife Alexis spent the day planting 40 trees at Little with the students, staff and volunteers helping out.
As he worked with a group of sixth graders on the first tree getting planted, the idea of naming the tree came up. Names were thrown out including Hunter in honor of Pence.
The winning name ended up being Eduardo.
That didn't take away from the day for Pence.
"I haven't been here in a long time," said Pence, who followed up his time at Little by attending Gunn and Young junior highs before graduating from Arlington High School. "I got to walk by the first classroom I remember coming to here. One of my classmates is here planting trees today. It brings back a lot of great memories."
It was also an emotional day for Pence, who spent the 2019 season playing for the Texas Rangers. He fought back tears in a morning assembly when talking to the students and then again when he was presented signed banners from the current crop of Little students
"I wasn't expecting anything like that," Pence said of his tears. "I'm happy to be here and see all the kids excited to learn about trees and plant trees. It's really one of the greatest things and feelings I've ever been a part of."
Texas Trees is a private non-profit focused on urban forestry, green infrastructure and sustainable design. Pence worked with the older students in the morning getting the trees in the ground. The afternoon was for the younger students to do work like surrounding the new trees with mulch.
The cause is near and dear to Pence, who remembers playing soccer on the same fields he was planting trees next to.
"It means a lot," he said. "To raise some awareness to teach kids how to take care of a tree, the importance of trees, and how excited they are to get out here and be a part of it. You don't know the splinter effect of how far that goes. Just go make a good day and some good shade for kids at the very least."
You can see all the photos from the event in the Flickr album here.