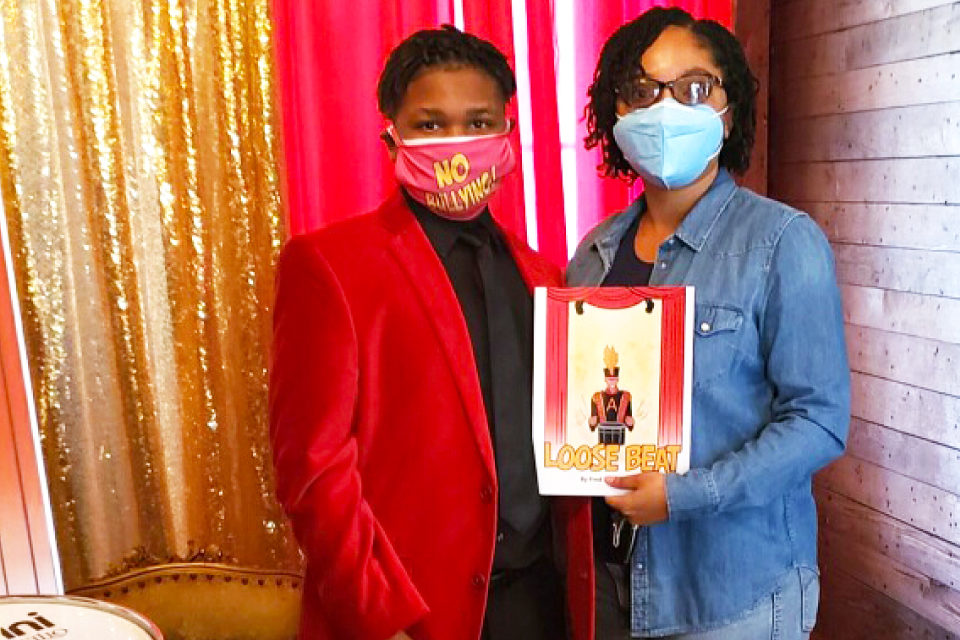 Book available on Amazon and Barnes and Noble
As the coronavirus pandemic forced millions of Americans to stay indoors this summer, many youths found the perfect excuse to lie around the house and be glued to their technological devices.
But Fred Threats Jr. was not one of them. Instead of making Tik Tok videos or competing against friends in the hot, new video game app Among Us, the seventh-grader at Nichols Junior High School was too busy focusing on becoming a published author.
Back in June, Threats penned "Loose Beat," a colorful, glossy, 25-page book that confronts the always-concerning issue of bullying in school.
The short fiction story follows the life of Jo Joe, who has aspirations of being a strong snare drum player in his high school's band. However, a nameless bully continuously ridicules the teenager for often playing the instrument "off-beat."
Published by the Indiana-based company Xlibris, "Loose Beat" was released by major booksellers including Barnes and Noble and Amazon in October. The book features illustrations by Threat's family friend Brandon Virgil through the company, 3B Pencilworks.
Threats, 12, originally from Lake Providence, La., has witnessed peers being picked on for being overweight or for simply having quiet personalities. He has also been bullied by individuals for not joining them in degrading other students. This compelled Threats to write the book, with hopes of uplifting children who have had similar experiences, he said.
"I have seen how it affects other kids," Threats said. "I have seen where kids have bullied so bad that they made students cry."
Sounding wise beyond his years, Threats said students must always "put their best foot forward" and ignore bullies. This message permeates throughout his book, particularly through the words of Wynton – Jo Joe's best friend and trumpet player at their fictional Arts Academy High School.
Threats said over time, he's figured out the root of the problem.
"The bully doesn't understand your vision or does not have a dream of their own," is what Threats tells other kids. "He is offbeat because he needs to be on beat."    
A different beat
A first-year student in Arlington Independent School District, Threats moved from northeastern Louisiana. Before leaving his home state, the child prodigy of sorts spent years serving as a percussion section leader in a band for General Trass High School – while still in elementary school.
His grandmother Aurora Threats said the school's marching band has played at many major festivities across Louisiana, including Mardi Gras in New Orleans. She is extremely proud of Fred's musical dreams; down the road, he wants to play for Grambling State University's marching band. While there, he would like to major in business management. The lover of dogs, lions and elephants hopes to one day to become a veterinarian.
Threats, whose favorite subject is language arts, wrote "Loose Beat" within a day's time this past June. He then spent a few weeks seeking out the ideal publisher for his book. Then, he waited another four months for the publishing to be finalized. Aurora promotes Fred's book whenever she can, and is very excited about his future.
"He's always striving to be the best that he can be. He is ambitious. Just well-rounded … from music to education to helping others. That's the type of person he is," Aurora said.
Music to their ears
Threats has only been on Nichols' campus for a few months. Yet, his language arts teacher Michaela Malone, said his presence has been impactful and that he is a "joy to be around." She emphasized that his positive attitude is infectious, particularly with the COVID pandemic discouraging so many people right now.
"Fred is one of those students who goes after what he puts his mind to, and makes sure to get it done," Malone said. "I think that it is super cool that students have the opportunity to become authors at such a young age."
Malone loves how Threats made the main character of "Loose Beat" so relatable.
"He was able to put his personality into the book and made his readers feel like they know him in real life. I love Jo Joe because his character reminds me of Fred," she said. 
Like many educators, Malone said that addressing bullying in school is crucial as it "will always take place in school." She said Threats making children more aware of it through his story is "just icing on the cake." 
"During these times of social media, bullying is even more prevalent in schools than before. Students do not realize how much social media plays a part in bullying. They think it is all fun and games until it's them in the hot seat," Malone said.
To prevent bullying, Malone said educators must build those relationships and classroom culture to make sure "students know how to be there for each other and not against each other."
Threats, who hopes to write a part two to "Loose Beat" in the near future, agrees.
"No one should think they are better than another person," Threats said. "You never know what that person may possess; you never know what type of gift that person has."