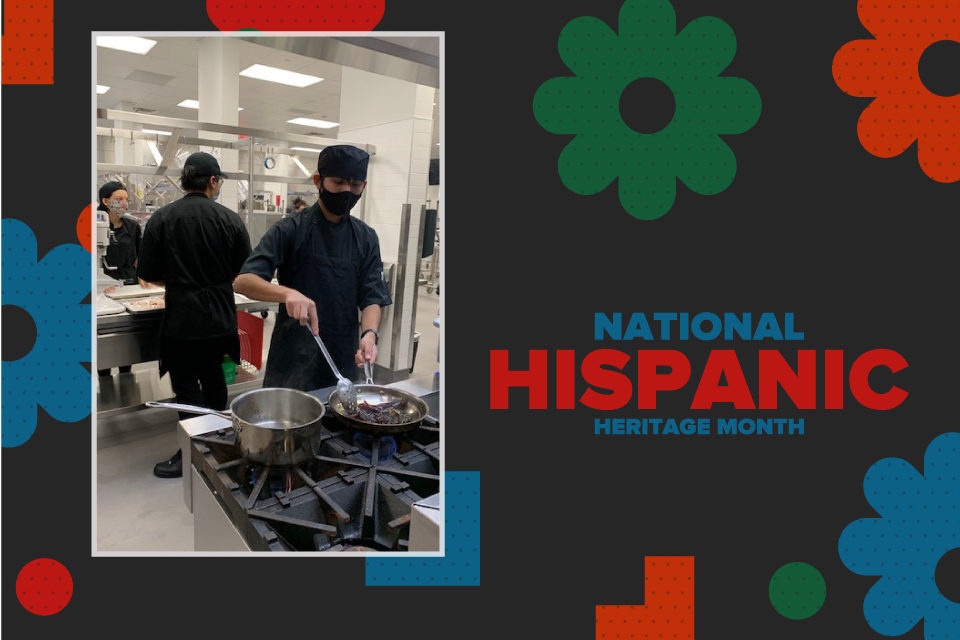 Mole sauce has many varieties
To wrap up National Hispanic Heritage Month, let's celebrate with food! Since we can't gather for a party right now, we'll settle for sharing recipes. And we have three good ones for mole sauce straight from the Arlington ISD's culinary program at the Dan Dipert Career and Technical Center.
National Hispanic Heritage Month landed at the same time culinary teacher Greg Almendarez was teaching his classes at the CTC about making sauces. The emphasis on Hispanic heritage inspired him to incorporate mole sauce into his lesson plans.
Mole originated in southern Mexico, Almendarez explained, and comes from the Nahuatl word "molli," which means sauce. Depending on the region in Mexico, mole is characterized by a variety of blends of flavors like dried chiles, spices, seasonings, fruits and sometimes even chocolate.
Almedarez had his students start with fabricating a whole chicken to use as their protein for the sauce. They then braised the chicken for a couple hours in the sauce until fully cooked.
"I had each group make a different mole so they could taste and see the difference in each sauce," Almedarez said. "Usually it's served with rice and beans, but if you want to make it more upscale, I recommend a butternut squash risotto to balance it out perfectly."
Now, it's your turn: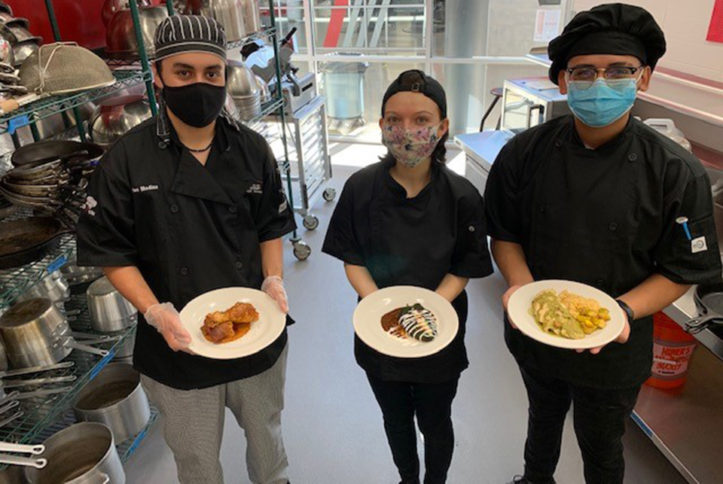 Mole Sauce
2 oz sesame seeds
3 roasted tomatoes
3 chiles guajillo (seedless)
5 chiles ancho (seedless)
4 chiles pasilla (seedless)
2 garlic cloves, peeled
2 oz almonds
2 oz raisins
Pinch cinnamon
Pinch anise
Pinch cloves
1 fried tortilla
1 oz chocolate if you wish to add
2 c chicken stock for braising (remember only if needed)
Salt and pepper for taste
A little sugar to kill bitterness if needed
Directions:
Toast all the ingredients
Let chiles rehydrate in hot water for 30 min (take seeds out)
Blend all ingredients together and strain
Bring sauce to a simmer with your choice of protein.
Green Mole
½ onion
1 garlic clove
¼ c olive oil
7 oz broccoli
2 c asparagus
1 chile serrano
¼ c pepitas
1 c water
½ c cilantro
1 tsp salt
Directions:
In a pan, sauté the onion and garlic in oil over med-high heat until translucent.
Add broccoli, asparagus, chiles, pepitas and water; bring to a boil.
Remove from heat and add cilantro. Blend, strain through a fine mesh sieve, and return to pan. Bring to boil, remove from heat and adjust the salt.
Vegetable Mole
7 chiles guajillo, seeded
3 chiles puya, seeded
4 c fresh corn kernels
3 tomatoes
2 garlic cloves
½ onion, chopped
3 T olive oil
1 tsp salt
3 c water
Directions:
In a pan, sauté the corn, tomatoes, garlic and onions over med-high heat.
Add chiles before adding the water to lightly toast.
Add water and bring to a simmer, stirring constantly for 25 minutes. Blend, strain (sieve) and adjust the salt for flavor.
Learn more about National Hispanic Heritage Month.