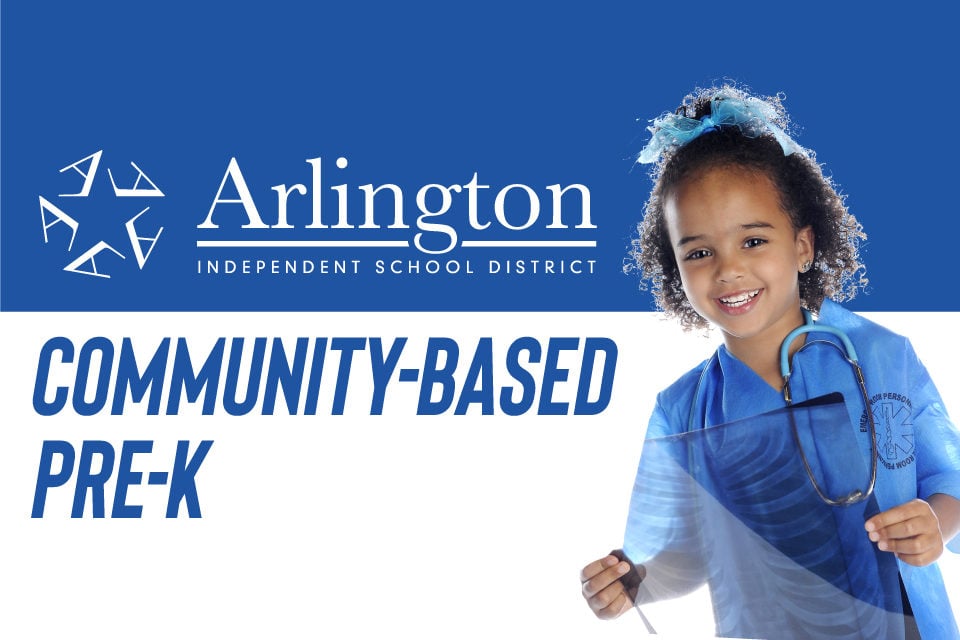 Community-Based Pre-K Expands Partnerships Across the Arlington ISD
Arlington ISD's new community-based Pre-K partnership is a win for everyone. While community-based Pre-K isn't new in the district, a new three-way partnership among Arlington ISD, Child Care Associates and local child-care centers is not only keeping the program going, but it's also ensuring the program continues to benefit the district, working families, child-care centers and, most importantly, our youngest learners for this upcoming school year and the future. 
Arlington ISD has made Pre-K a priority and is determined to make Pre-K accessible and available for everyone. That includes expanding Pre-K to nearly every elementary school in the district, adding full-day Pre-K for 4-year-olds and adding the first Head Start Pre-K PLUS program at an Arlington ISD school. It also includes community-based Pre-K, a partnership with local daycare providers that couples Arlington ISD's outstanding Pre-K program with wraparound child care for working parents. 
Community-Based Pre-K is for 3-Year-Olds
Community-based Pre-K is a half-day Pre-K program for 3-year-olds located in child-care centers. By enrolling in Pre-K at the child-care center, students receive seamless convenient daycare both before and after the Pre-K school day without ever having to leave and go to another care location. Plus, the Pre-K program is taught by an Arlington ISD teacher with the same outstanding play-based curriculum, materials and technology used at Arlington ISD campuses.
"We've spent many months working on this partnership because we are committed to working with our community to provide as many early learning opportunities as possible," said Dr. Jackeline Orsini, Arlington ISD early childhood director. "We're excited that our new framework will continue to offer a resource for working parents, help child-care centers with enrollment and allow the district to reach even more 3-year-olds."
Community-Based Partnerships
The biggest change in the community-based Pre-K partnership is the addition of Child Care Associates, which works to provide academic and social-emotional growth through quality early education and child-care programs. Child Care Associates brings additional resources for children and families and is serving as a representative for the collective group of child-care centers in the partnership.
"Arlington ISD is seeing the importance not just of offering Pre-K in schools but in partnering with child care," said Kara Waddell, CEO of Child Care Associates. "Families need a whole-day solution that meets their child-care needs of a day paired with the early education offerings that spark when Pre-K and child care come together. Child care and Pre-K partnering can be a big win."
Josie Villareal, director of Allstars Learning Center, one of Arlington ISD's original child-care center partners, considers the program a win for her center as well. The partnership helps promote enrollment and provides an Arlington ISD teacher and aid.
A Win for Pre-K Students and Community Partners
"It's been a wonderful experience for our children and a huge help for the families we serve," said Villareal. "It has been a win-win for all of us. Our working families get to drop off their child early in the morning and some of the children get picked up late into the evening, and the children still get services that AISD offers without having the headache of picking them up after the three hours of Pre-K."
Registration for community-based Pre-K started this week and can be completed at the child-care centers. For more information about Arlington ISD Pre-K, visit aisd.net/prek.   
Arlington ISD Community-Based Pre-K Partners
| | | | |
| --- | --- | --- | --- |
| Allstars Learning Center | 1820 E. Abram St., Arlington, TX 76010 | (817) 261-2002 | |
| Child care Network #259 | 4636 State Hwy. 360, Grand Prairie, TX 75052 | (972) 295-9295 | |
| Child care Network #260 | 6250 Matlock Rd, Arlington, TX 76002 | (682) 325-3885 | |
| Cornerstone Academy | 5414 Matlock Rd., Arlington, TX 76018 | (817) 375-2235 | |
| Grace Lutheran Early Education | 210 W. Park Row Dr., Arlington, TX 76010 | (817) 275-5131 | |
| Kids Community Preschool-Arl | 1305 W. Arbrook Blvd., Arlington, TX 76015 | (817) 468-1072 | |
| Kids Community Preschool-GP | 4165 Magna Carta Blvd., Grand Prairie, TX 75052 | (972) 602-0444 | |
| The Children's Place | 2312 Remynse Dr., Arlington | (817) 548-9020 | |
| Childtime | 1505 W. Arkansas, Arlington, TX 76013 | (817) 861-9712 | jparris@childtime.com |
| Zone 4 Kids | 2004 E. Abram, Arlington, TX 76010 | (817) 860-7477 | |