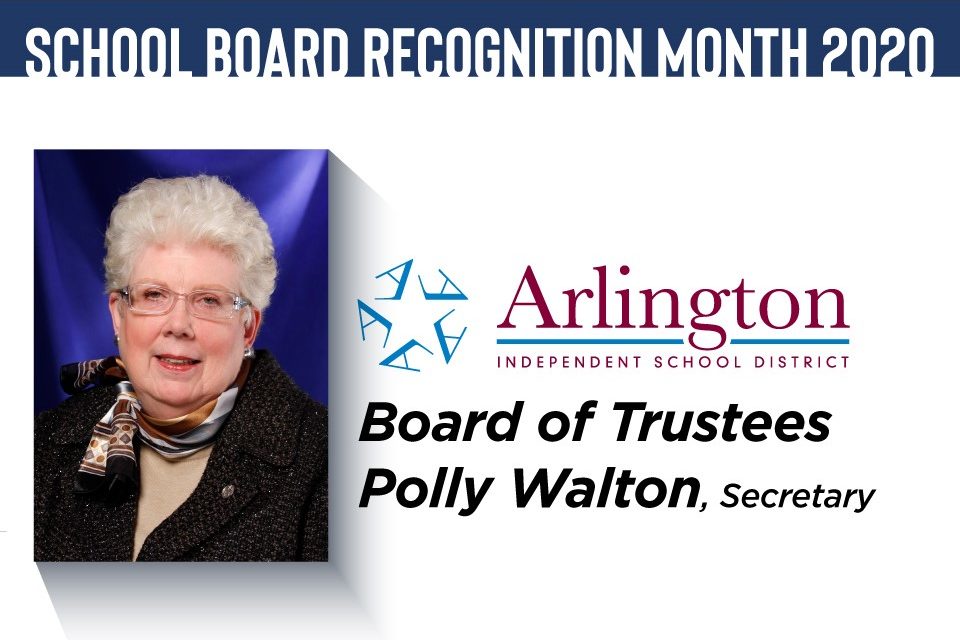 January is School Board Recognition Month, a way to honor the 7,200 locally elected school trustees in the state of Texas. This month, the Arlington ISD will help you get to know each member of our Board of Trustees a little better while thanking them for their service. Next up is Polly Walton.
FIVE QUESTIONS WITH BOARD TRUSTEE POLLY WALTON: 
Why did you want to be on the Arlington ISD Board of Trustees? My main goal when I first ran, and still today, is to help our students by supporting their teachers. Teachers do the impossible every day. In the forty years I have been involved in teaching, I have seen teachers do amazing things to love and nurture and uplift kids in their classes. My goal is to expand our district's culture and capacity for nurturing and respecting our teachers. Arlington has not yet experienced a teacher shortage, but I worry as I see more and more of our experienced teachers leave teaching, that it could happen. Our success as a district rides on the quality of people we have in our classrooms loving and working with our kids.
What's the best part about being on the board? There is a strong, united element of purpose among our Team of Eight. Board members each have their own areas of expertise and talents. These different gifts are valued and respected by the other members. The team has a clear purpose, a set of goals and focus. Simply put, we have our differences, but we are a united team, pulling together. Best of all is seeing our students succeed and thrive, and knowing our decisions helped these kids find success.
What's the most difficult part about being on the board? Having patience. Change takes longer than I would like. The district is like a big ship; it takes a long time to change course. Seeing many of our kids in crisis situations – poverty, homelessness, lack of good daycare, health problems, violence – and not being able to "fix it" fast enough.
What's the funniest or most interesting request you've had from a community member or parent? If we could just put (pick one) prayer, corporal punishment, dress codes, etc. back in the schools, there wouldn't be all these problems. So many people think our schools should be like the schools they experienced when they were young. They have no idea how different things are today for our students and families.
What makes working on the Arlington ISD Board of Trustees unique? Working on a Board which has a strong sense of a united purpose and a genuine love for the task. See answer to question # 2.) We attend school board training and conferences several times a year. Every time I come home from the latest trip, I think how the AISD is ahead of the pack of other school districts. It is gratifying to be experiencing success. Many things have contributed to this success – a supportive community, hard-working and caring parent volunteers, an administration always seeking the best, support staff that love and nurture us all, and a superb teaching staff. 
Thank you, Ms. Polly Walton, for your dedication to the students, teachers and staff of the Arlington ISD!