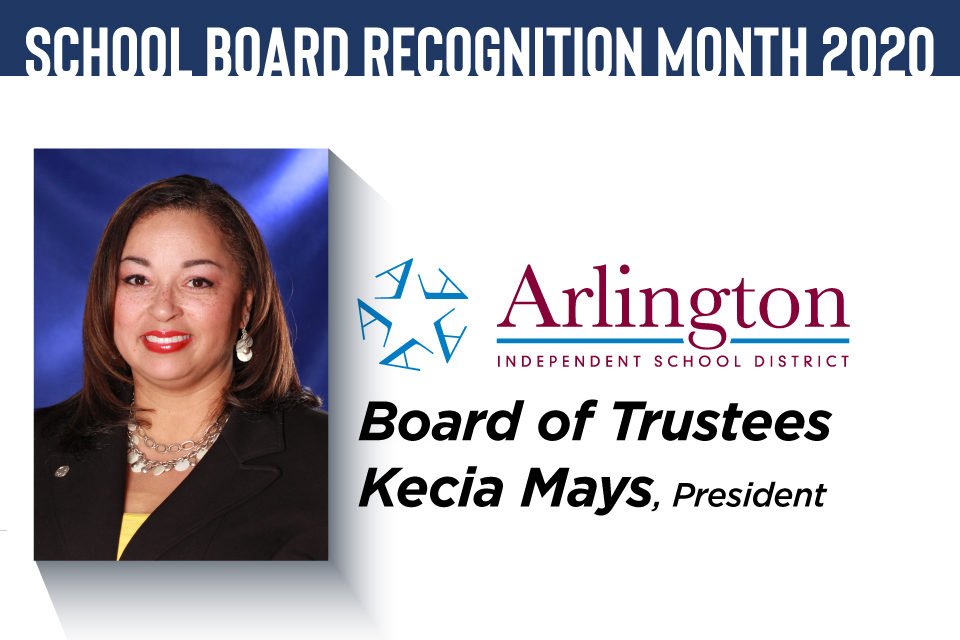 January is School Board Recognition Month, a way to honor the 7,200 locally elected school trustees in the state of Texas. This month, the Arlington ISD will help you get to know each member of our Board of Trustees a little better while thanking them for their service. 
Five questions with Board President Kecia Mays: 
Why did you want to be on the Arlington ISD Board of Trustees? I had a chance to be involved with the PTA on the local/council/state level. This exposed me to parents, teachers and students of different local schools and districts. I realized that all districts had similar issues but the approach to solving those issues was different. I wanted to take this knowledge and apply it to my district with input from all parties to make our district the best it could be due to the extremely talented pool of teachers and amazing students.
What's the best part about being on the board? The opportunity to provide resources for teachers to make a difference in a student's future. The ability to see planning by the administration and input from the staff and community and then a vote of confidence from the taxpayers to provide equitable resources for our students and access to those resources. I get to see it go from an idea to a reality and then watch our students thrive.
What's the most difficult part about being on the board? Knowing you will not be able to make everyone happy and constant advocacy for public education to state and federally elected officials.
What's the funniest or most interesting request you've had from a community member or parent? The most interesting was that I was invited to participate in a project with a Bowie High School English class on sacrificing something that is important to you and write an essay on that experience. The funniest was I had an invitation on the stage to participate in a play at Arlington High School. I did not quit my day job.
What makes working on the Arlington ISD Board of Trustees unique? The uniqueness comes from the people. Our board has been a high-functioning board for a few years. The synergy between the board and with the administration is uniquely healthy and the student achievement is evidence. We also represent a diverse community, and this brings unique perspectives and creativity.
Thank you, Ms. Mays, for your dedication to the students, teachers and staff of the Arlington ISD, enjoy School Board Recognition Month!