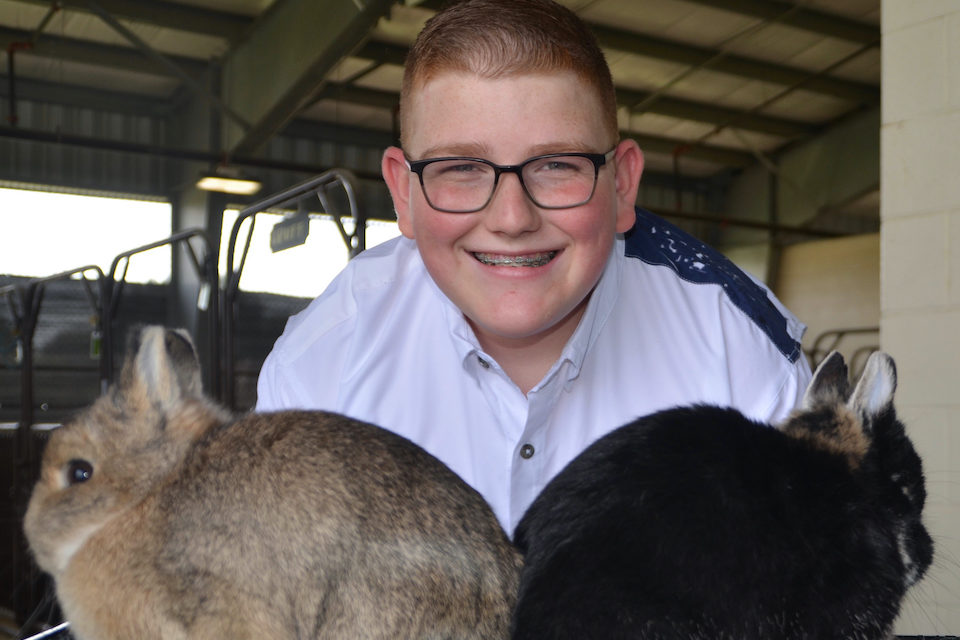 COVID can't stop student's passion for rabbits
When the coronavirus pandemic hit in mid-March, school activities came to a screeching halt.
No sports, no band, no Key Club.
And no rabbit showings.
"That nearly killed me," Ryan Smith said.
Not the sports. Or band. Or Key Club.
It was the rabbits.
For Smith, an Arlington High School junior, he was quarantined with rabbits peering out from their cages, all gussied up with absolutely nowhere to go.
So Smith, whose rabbits have won a slew of honors in major rabbit shows in and outside Texas – one as a grand champion, no less – figured he'd pull himself and other rabbit breeders out of the doldrums by creating a contest of their own.
Since bringing together breeders to present and the judges to score was an impossibility, Ryan, with help from Arlington High School and Future Farmers of America area president Dakota Lindemulder did the next best thing: He went online.
"Shows were being cancelled left and right," Smith said. "A few other shows had gotten started (online) but I decided to add a little flavor. I made digital awards for winners. You could get a picture with your rabbit. Another show you had to pay, and the winner got the jackpot."
The first show, on Facebook, lured 700 exhibitors. From there, it exploded.
Now his Online Rabbit Show Extravaganza averages 1,300 entries a show and, to make it legit, includes a pair of recognized judges from the American Rabbit Breeders Association (ARBA), the national club for domestic rabbit breeders.
 "What he pulled off was absolutely amazing," said Arlington High School ag science teacher and FFA advisor Tanner Smith.  "He's been able to create opportunities for not just other FFA and 4H members but opportunities for anyone who has a rabbit to show. He works diligently to promote and organize these shows and can still complete all his online schoolwork. This is quite the accomplishment from a junior to be organizing and running a nationally recognized rabbit show."
With such a passion for rabbits, you would think Ryan's story would involve them. It is quite the opposite. He did not grow up with or was even indirectly around animals. Nor did he possess a special fondness for rabbits, either. In fact, it was a freshman showing project in his first ag class that got him going.
"I just thought showing rabbits would be easier than showing, like, goats," Ryan said. "They are smaller and more compact, so I said, 'why not?' Something happened along the way, I guess."
Competitiveness, perhaps? By his own admission, Ryan possesses an ultra-competitive spirit, no matter what it is. Showing rabbits is all about the art of breeding, of making judges go wild over a purebred fitting its Standard of Perfection.
A point system up to 100 is based on strict guidelines centered around the various features of a breed, from fur quality and color descriptions to markings and weight.
"Can you get to that 100?" Ryan said. "That's the goal."
The Arlington ISD is one of the few districts to offer rabbitry, and it does so inside the 23,000-square foot Agricultural Science Center, which houses sheep, goats, and heifers in 54 flexible-fencing pens. In its relatively short time, the center has become the place to be. Students not only learn about agriculture and horticulture but responsibility and accountability because they grow animals that are dependent on them.
"This is the largest number of animals we've had here, ever," said Lindemulder, a senior. "We've got people all over here and no one is physically at school right now. This just shows you how important this program is."
For those wanting to show rabbits, it is all about breeding. Ryan is so knowledgeable about purebreds he has become the go-to student for All Things Rabbit.
During a visit to the Ag Center recently, Ryan rolled his fingers over a rabbit's ears saying how judges for that particular breed prefer ears to be short and open, not folded, and how the head should not have a flat brow.
"You want it to round over the brow," he added. "The body must have a short shoulder, not a long one. Same with the midsection. You look at his markings for color in how the eye circles goes all the way around. You want it to be nice and full, not thin, or no eye color at all. The idea is to breed to get what the judges are looking for."
If fellow students ask Ryan Smith something specific about rabbits, "Nine out of ten times, while they are still talking to me, I'm texting Ryan, saying, 'Hey, this kid needs to speak with you,'" Tanner Smith said. "There's an advisor over rabbits and she does a really good job with that. But we have 40 to 50 kids who have rabbits and she can't answer all those questions, so we use Ryan an awful lot saying, 'Hey, help us out with this kid.'"
Lindemulder said Ryan's rabbitry is becoming a statewide phenomenon; aside from winning best in breed 13 times and best in show twice, one of his rabbits was also a grand champion.
While there is not much rabbit breeding at the collegiate ranks, Ryan could still enter contests, as an open exhibitor after he graduates.
"I'm hoping he keeps breeding and showing and hopefully sell those rabbits to junior members to continue his genetics," Tanner Smith said.
Ryan will most certainly stay in the rabbit game, though probably as an ARBA judge.
"That's my plan, at least," he said.
He's already quite comfortable distinguishing between 40 to 45 unique breeds.
Not bad, considering the ARBA lists only 50 of them.