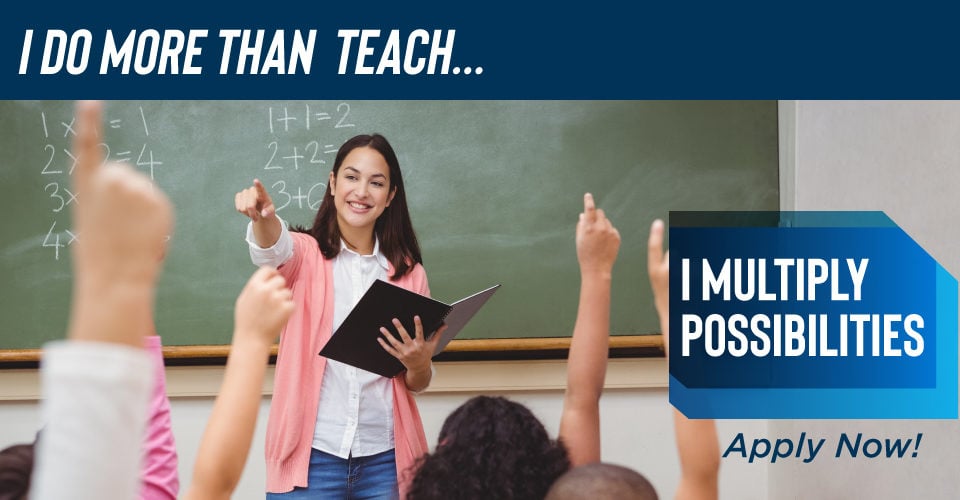 Teaching really was a calling for Blanton Elementary fourth-grade teacher Damaris Gloria her whole life.
It just took her a little time to figure it out.
She's glad she did.
Gloria studied radio and film at UT-Arlington and thought that was going to be her career path. That changed when she found a letter she wrote during a college Spanish class.
"It was about what do I want do when I grow up," Gloria said. "I wanted to be a film director because then I could have a lot of money and help a lot of kids. I read that and was thinking, 'Wait a minute, there are so many things I can do to help kids.' I said to myself 'What about teaching?'"
Gloria found her fit in the Arlington ISD after submitting an application online. She got a call from Blanton Elementary saying they needed a bilingual fourth-grade teacher. The same day she interviewed she was offered the job. She's been at Blanton ever since.
If teaching is your calling like Gloria or Corey Academy first-grade teacher Daniela Kidwell – or like the more than 4,000 teachers who are already doing more in the Arlington ISD – come to the Arlington ISD Teacher Job Fair from 9 a.m. to 1 p.m. on April 4 at the Dan Dipert Career and Technical Center.
That's your opportunity to meet face-to-face with principals and key staff members from all across the district have a chance to change the lives of the nearly 60,000 students in the Arlington ISD.
Unique opportunities
First-year teachers have a starting salary of $54,500, one of the top numbers in Tarrant County. There are also stipends available for bilingual, specialized special-education teachers and those with master's degrees.
The district is the largest in the state and the largest employer in the city. The AISD offers the International Baccalaureate World School Programme at four high schools, and at one of two IB elementary schools in Tarrant County at Crow Leadership Academy. The Arlington ISD also boasts two early college high schools, a STEM elementary, a world language and two dual-language academies.
More than 40,000 students are enrolled in fine arts and more than 60 student athletes signed college scholarships on National Signing Day in February. Working in the Arlington ISD also opens your eyes in a district where students speak 82 languages. A new fine arts center and natatorium open this fall.
Teacher support second to none
While those numbers are good, joining the Arlington ISD can bring you so much more at one of the 78 campuses.
The Arlington ISD has had great success hiring teachers from job fairs. Kidwell is proof of that. Last spring she met with Corey administrators at a job fair during her senior year at UTA.
While Kidwell may only be in her first year in the district, she's already making a difference. So is Gloria.
Gloria was born in Mexico and didn't start speaking English until she was in the second grade in Los Fresnos. It wasn't an easy transition for her, and she's been able to lean on that experience to impact her students at Blanton. That's one of the reasons she loves teaching bilingual classes.
"My whole school career I never spoke up in class," said Gloria, who was selected as the Blanton teacher of the year in 2014. "I felt like I missed so many opportunities with teachers not pushing me because I was afraid to speak English. Now I get students like that in my class. I push them because I don't want them to miss the opportunities I missed and I regret missing. Now I feel like it's the opposite because when someone gives me the chance to speak I speak on."
Gloria has had opportunities at Blanton. While she was nervous when she started, she had support plenty of campus support that's still there. Gloria takes advantage of all training opportunities she can find. She's also the campus champion for the Blanton Holdsworth Center leadership team, and she was a member of the district's convocation planning committee.
Kidwell is still getting her bearings as a new teacher, but she's thankful to be where she's at because of the support she has.
"It's been a big learning curve, but I think everyone's first year is a big learning curve," Kidwell said. "I just have an amazing team and an amazing staff. All of the resources I get to have to help me are really useful."
Family atmosphere prevalent
She also found out that she has tons of community support. Kidwell was born in Mexico and moved to Texas when she was five. Earlier this school year she became a naturalized citizen. While very few people at Corey knew what she was doing, the day after it happened she got tons of congratulations from parents and staff members.
That's something she won't ever forget.
Gloria won't forget why she got into teaching either. It was a calling that came to her early in life – even before her desire to work on films. Both her parents are pastors, and she said they make differences in lives every day.
Being a teacher in the Arlington ISD allows Gloria to do the same thing.
"I know I can make a difference," she said. "I get to see that every day. That's why teaching is so rewarding to me."
If you would like to do more than just teach with Arlington ISD, then visit www.aisd.net/jobs and start changing lives today!