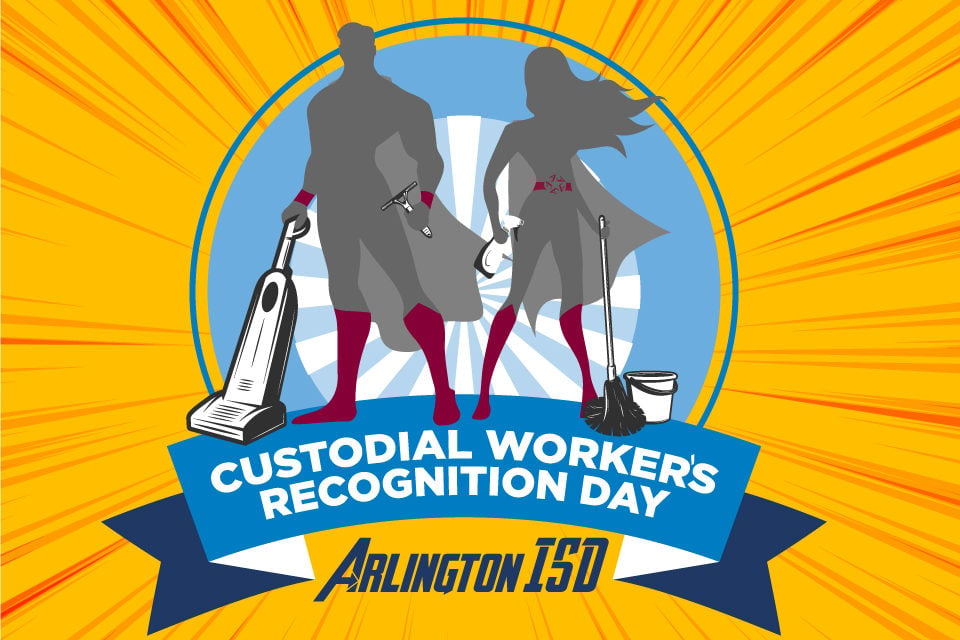 Custodians part of Arlington ISD school families
It's National Custodial Workers Recognition Day! While we always appreciate our custodians, with COVID-19 we are more grateful than ever for the work they do. If you see any of our outstanding custodians, please give them a huge THANK YOU! 
Their dedication and attention to detail is nothing new, but our custodians have gone the extra mile lately, working hard and nonstop to get students and teachers back into the classroom – and keep them there. Keeping our schools continuously clean is one of the most critical pieces in the complex process of getting and keeping schools open during the pandemic.
"When it comes to preparing our school buildings for use, our custodians serve on the front line," said Kelly Horn, Arlington ISD executive director of Facility Services. "They are in the buildings day-in and day-out, night-in and night-out, on weekends and during holidays making certain that the buildings are ready for the next day. They are completing their normal tasks and so much more to help prevent the potential spread of bacteria and viruses. We are very grateful for their selfless service of others. No matter what we ask, they always find a way to make it happen."
Like Family
Our custodians are integral members of each school's staff and play an essential role in ensuring an outstanding educational experience for our students. In fact, they're not just members of the staff, they're part of the schools' families.
"Our custodians, led by Ms. Naty, head custodian, are truly like family to us here at Short!" said Short Elementary Principal Katina Martinez. "Ms. Naty, Jose, and Abdul not only fulfill their job responsibilities as assigned, but they all take great pride in our building looking immaculate. Our building may be 50 years old now, but you would never know it. Ms. Naty has been at Short for many years and treats this building as if it were her own. Everyone knows that she is the heart and soul of Short Elementary!"
Short is just one of many examples. It's the same way at school after school, including Beckham Elementary.
"When you enter Beckham Elementary, you feel at home!" said Alicia Whitaker, assistant principal at Beckham. "Our essential custodial staff works diligently to make our campus community feel safe and welcome. They are not only effective but also efficient in keeping the campus clean and organized. It is because of their consistent hard work that we have maintained our original carpet since opening in 2001 – which we are quite proud of! We appreciate and love you, Belen, Antonio, and Martha!"
High Standards
Even before COVID-19, the Arlington ISD had a high standard for cleanliness executed daily by the operations team.
"We approach cleaning the buildings with the same mindset that we have always had: a clean, well-maintained building is a safe building," Horn said. "Our students and staff deserve a clean, well-maintained, safe building to learn and work in daily."
In fact, three years ago – long before COVID-19 – the Arlington ISD added a disinfectant misting program to its cleaning process to guarantee germs get killed and schools are thoroughly clean.
Those practices and standards ensured the district was prepared when coronavirus struck.
While the practices and standards were good, it's the custodians themselves who have ensured they are maintained. We are so grateful to all of them for their devotion and hard work on behalf of our students, teachers and entire community.
"These unsung heroes have a work ethic that is to be commended," said Beckham Principal Karen Hicks. "They always have a smile on their faces and are willing to go above and beyond the call of duty to ensure our school is clean and tidy both inside and outside."
Thank you Arlington ISD custodians!