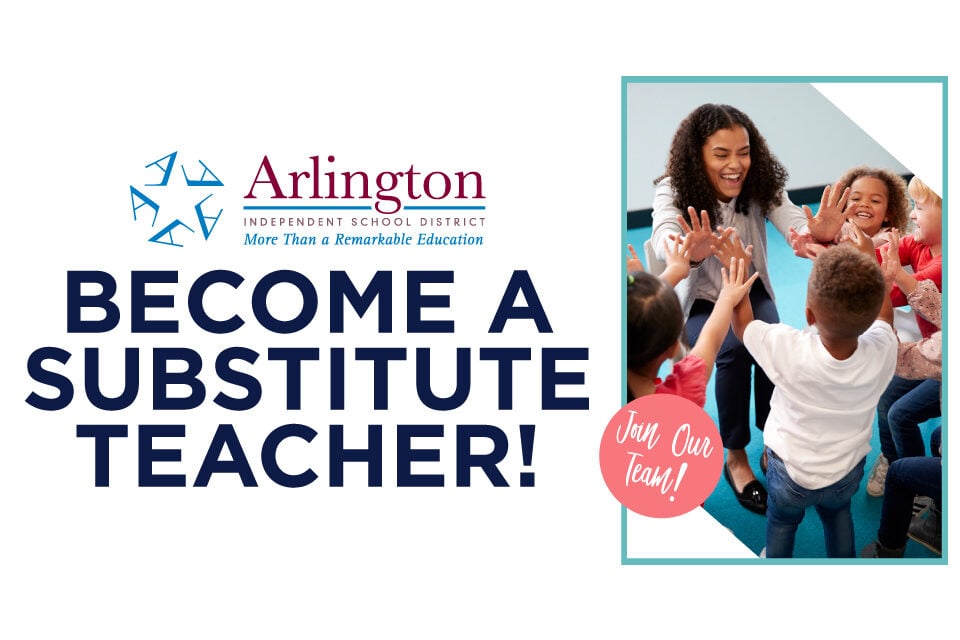 If you want to teach in the Arlington ISD but don't want to commit to teaching all year like our more than 4,000 full-time teachers do, we've got you covered. In fact, the Arlington ISD should be your destination if you want to be a substitute teacher. Why? Here are five top reasons you should sub in the Arlington ISD.
1. We pay more
Seriously, now. Our Board of Trustees made a huge commitment to substitute teachers this summer to make us the top-paying district for substitute teachers in the Metroplex. Depending on credentials and the amount of time you work, our subs can make up to $165 a day in some cases. We also raised our sub pay rates across the board.
2. Right for retirees
The Arlington ISD has a talented pool of former teachers who have retired from full time but still want to teach. Sounds like the perfect opportunity to substitute in the district you already know. And, if you're still certified, the money can start adding up as certified sub teacher pay starts at $125 a day. And there are incentives to be had, too.
3. Flexibility
Want to teach but on your own terms? Then give substitute teaching in the Arlington ISD a try. Because you're not on contract like our full-time teachers, you set your schedule. You determine when you work and where you work. Sounds like the perfect opportunity.
4. Get your foot in the door
So you think teaching is something you want to do, but you're not 100-percent sure. Then substitute in the Arlington ISD and find out if it's right for you. You don't even have to have your college degree. If you have at least 45 college hours, you can start earning $100 a day with a chance at incentives. That way you get paid and have a chance to discover your passion for teaching.
5. Community effort
Everyone always talks about how Arlington is a big city with a small-town feel. It's the same way in the Arlington ISD. If you sub in the district, you have a chance to see the same faces you do at the grocery store, the mall or the amusement park. And if you're subbing here, you know you're helping shape minds of future leaders as we prepare our students to be college and career ready.
If any of those five reasons sound right to you, come join our team in the Arlington ISD. You can take the first step by applying now at aisd.net/jobs. You can also register for our July 19 job fair here.