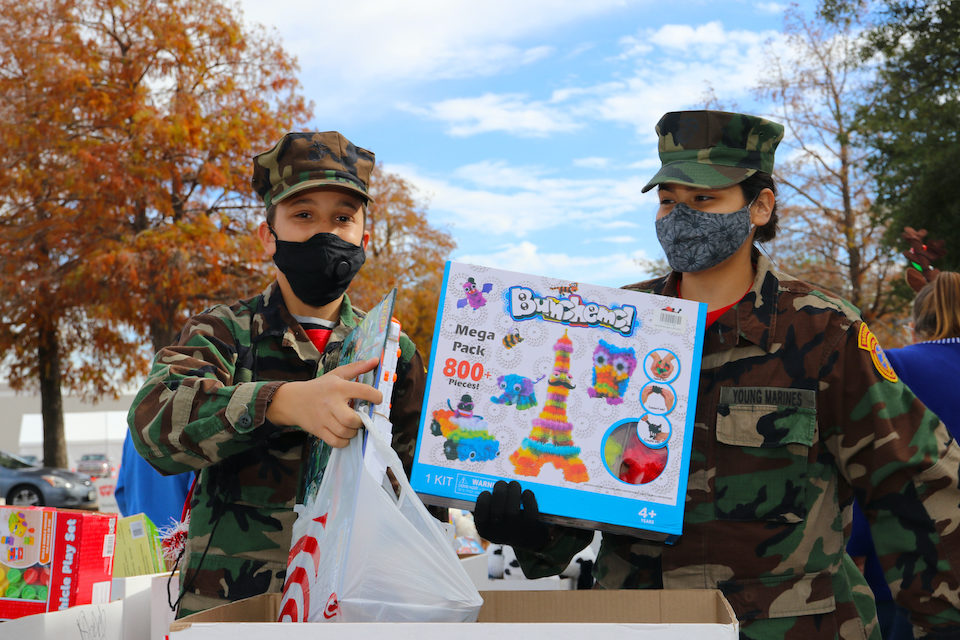 Many toys will go to Arlington ISD students
Thanks to Toys for Tots – and you – thousands of Arlington children are going to have an exciting Christmas.
Toys for Tots held their donation drive over the weekend at the Arlington ISD Professional Development Center and also collected toys at every school. They are still counting, but at last check, more than 5,000 toys had been donated, plus $10,000!
"This was a challenging year for Toys for Tots," said Steven Villalobos, a district security sergeant at Bowie High School and leader in the Toys for Toys program, referring to the impact of COVID-19. "Even though it was a difficult time, the support of Arlington ISD was imperative to the success of our city's program. This is the first year we had every school involved, the security department, and a drop-off location at the Professional Development Center."
Many of the children who will receive the donated toys are Arlington ISD students, including 230 in the district's Families in Transition program, which helps students dealing with homeless and transitional living situations.
That means a busy next few days for the Families in Transition staff.
"Our staff will be sorting and tagging the toys for distribution to students and families," said Dr. Elizabeth Garza-Higgens, the Arlington ISD student outreach services specialist who coordinates the Toys for Tots donations for students in the Families in Transition program. "It's a tight schedule since Toys for Tots runs through December 8th, and we need to have them all distributed no later than Wednesday of next week."
But it's a job they love doing.
"The student outreach services staff are always inspired at the goodness of others as we deliver toys to families," said Tori Sisk, the Arlington ISD student outreach services coordinator who leads the Families in Transition program. "It is a true highlight to what can be very daunting work."