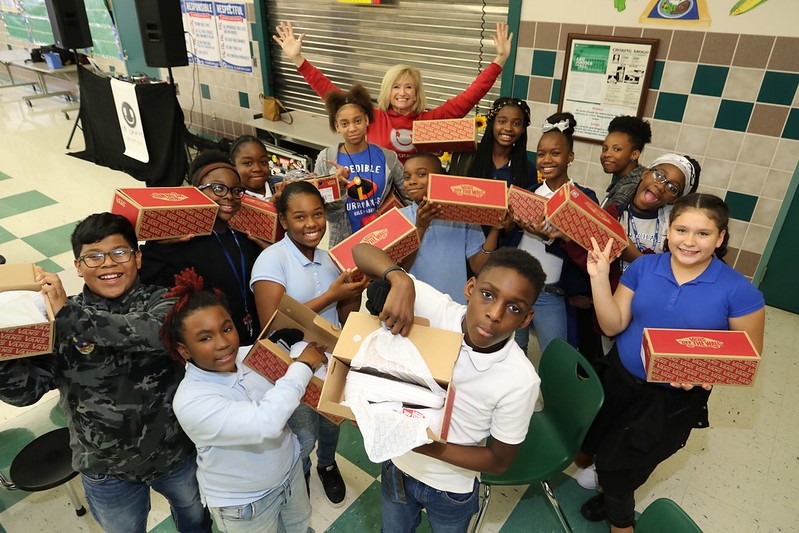 Students at Hale Elementary got a first-hand look at how great community support is the Arlington ISD is when Vans Shoes and the Arlington Police Foundation stopped by for a visit last Friday.
Hale students in third through sixth grade were treated like royalty as they entered the cafeteria with the Sam Houston High School drumline setting the mood. Once the students were in the cafeteria the fun really began as they were each given a pair of Vans shoes along with sunglasses, hats, McDonald's Happy Meals and Under Armour socks all thanks to an idea that originally started with Arlington police sergeants Robert Walsh and Ja'Nae Powell-McGee.
The two officers, who spearheaded the Bridge Kids program at the school that helps make sure students get home safely, wanted to do something else and it culminated with Friday's ceremony that also included AISD Superintendent Dr. Marcelo Cavazos, Police Chief Will Johnson, Arlington Mayor Jeff Williams and Martin High School football coach Bob Wager and a handful of players.
"Just to be able to pull so many people together for one common purpose and one common goal and to see it all come together is amazing," Hale Principal Natasha Harris said. "This just shows that it takes a village to raise a child. This is a village that has come together to help the students at Hale Elementary."
Harris said the topic came up originally in the 2018-19 school year and the planning for the event began last fall. The Arlington Police Foundation teamed with the APD and partnered with Vans. An anonymous donor also chipped in to make sure there were more than 200 pair of shoes and each student was introduced and walked across the stage graduation style to get their new kicks.
"When our community comes together our district is better," Cavazos said. "It's better because it leads to our students' success. This was a great example of that, and we're fortunate to have such great support in our district. This is going to be something these students remember for a long time."
The APD has done a great job of taking care of the students at Hale. Whether it's the Bridge Kids or haircuts or murals or eating ice cream with the students, the officers make sure the students are taken care of.
Friday was no different.
"I see myself as a bridge kid," Powell said. "This was the type of environment I grew up in. This was an opportunity for me to give back, paying it forward. This is an awesome community. The administrators assist us and the kids are awesome. It all works together."
 To see all the pictures of the event, click here.