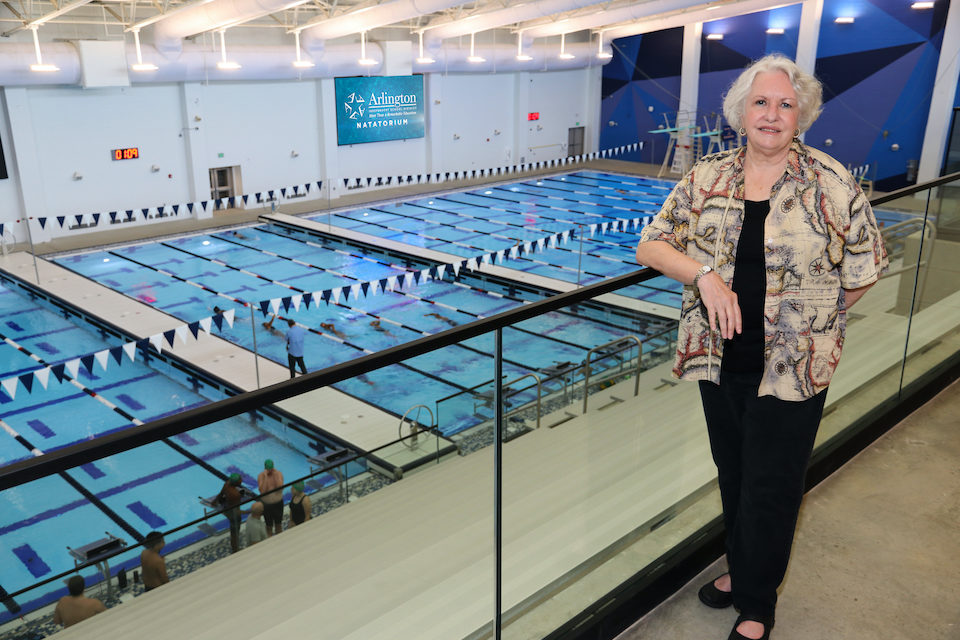 Coach started swim program in 1974
During the late 1950s, under the bright sun over the islands of the Philippines, Juliann Warner spent many hours swimming in a pool on a military base. There, her dad, Angelo Fortuna, was stationed in the Southeast Asian country for rescue missions as a navigator for the United States Air Force.
The area's great weather, Warner said, was idyllic for endless fun time in the water.
"That was pretty much what we did all the time. Swim, swim, swim," she said. Warner's early life as a "military kid" afforded her the opportunity to take swimming courses provided by the American Red Cross. Still, she never imagined that those experiences, between first and third grades, would kick-start a lifelong journey with the sport of swimming.
Born in Philadelphia, Warner went on to complete high school in San Antonio. She later graduated with a teaching degree in history and physical education from the University of Texas at Arlington. While on campus, Warner served as a student swim coach and statistician for men's teams as there were no programs for women. She also had no prior experience as a high school swimmer; University Interscholastic League didn't recognize the sport before she arrived at UTA.
In 1974, Arlington ISD hired Warner as a physical education teacher for the original Nichols Junior High School. She was also named the district's first coach for competitive high school swimming, a role through which she helped lay a foundation for Arlington ISD's program today.
Diving In
For eight years, Warner was responsible for coaching a total of eight boys' and girls' teams for Arlington, Lamar, Sam Houston and the original Bowie (now Workman Junior High) high schools – all on a modest stipend of $250 per year.
"I was happy to have that extra money," Warner said. "My salary for the year was a little over $6,000. Every little bit helped. Besides, you did what you did because you loved it."
Warner said bonding with students and helping them improve as swimmers mattered most. By coaching between 50 and 100 students per year from different schools, her job enabled her to remain neutral when the teams competed against each other.
"I was more of a teacher," Warner said, further explaining that she often had to arrange transportation for the swimmers to attend meets and valued the support from juniors and seniors who served as team captains.
Although she was successful in her position, Warner said there was always one "disappointment." She unsuccessfully tried to persuade Arlington ISD's school board to build a pool that all district swimmers could utilize. For many years, she said the students had to use pools rented out by Tarrant County College and UTA, where time and space were limited and teams had to practice separately.
Years after Warner retired from coaching in 1982 and had shifted her focus to teaching history at Nichols, she still hoped that Arlington ISD would build a pool. During the late 1990s, when her son Davin swam for Martin High School, the "swim mom" was still hopeful that a natatorium would be built for district swimmers.
A New Day
The wait is over for Warner, who has subbed in the district for the last five years but hasn't yet this school year because of concerns over the COVID-19 pandemic. Earlier this month the district opened the doors of its new Arlington ISD Athletics Center – a facility that includes a natatorium with a huge state-of-the-art pool already being used daily by student swimmers and coaches.
A part of a 2014 Bond project, the building is located near AT&T Stadium and Globe Life Park in Arlington. The center, which includes an arena for basketball, volleyball, wrestling and elementary gymnastics, is one half of the Arlington ISD Arts and Athletics Complex.
Lamar's Brian Dangelmaier – the longest-tenured swim coach in the district with 21 years – is thrilled about the natatorium's completion.
"We echo the feeling that Ms. Warner has… The district has done a magnificent job in designing and building this natatorium," Dangelmaier said.
It offers seating for 1,000 spectators and a 50-meter world-class Myrtha pool that was built in Italy and shipped in pieces to Texas. The pool has moveable bulkheads, a diving area with four boards, extra lane space and equipment that is custom-ordered to help strengthen swimmers.
See photos from a recent practice in the natatorium.
Like Warner, Dangelmaier said, many district coaches have eagerly awaited the center's completion. The facility will enable coaches to better collaborate and combine their workouts. It will also allow coaches to host their own swim meets and they will now also have more control of their schedules for practices.
Lamar will particularly benefit from the natatorium due to the school's proximity to the facility located in Arlington's Entertainment District, Dangelmaier added.
"Once we begin our elementary school programs, followed by the later junior high programs, we will begin a pipeline to feed all of the AISD high school teams," Dangelmaier said. "I'm very excited for the future of Lamar swimming."