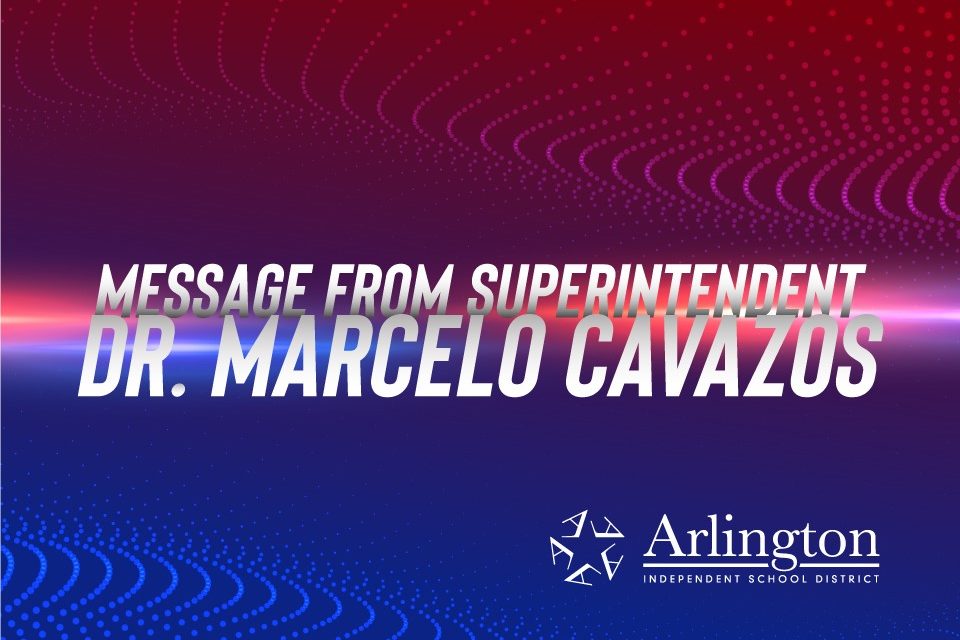 A Message from Dr. Marcelo Cavazos, Superintendent, Arlington ISD – April 19, 2020
I want to make you aware that a valued member of our Food & Nutrition Services team has tested positive for COVID-19. The employee began exhibiting symptoms late in the day on Friday and sought medical attention. District officials were notified of the positive diagnosis today. Our thoughts are with our staff member for a complete recovery.
The employee was preparing meals inside the kitchen at Swift Elementary School. This particular employee did not come in direct contact with family members picking up meals during curbside service hours.
In partnership with public health authorities, the Arlington ISD has implemented a multi-step plan to best ensure the safety of fellow employees:
1.       Swift Elementary School has been closed as a feeding site and will be thoroughly cleaned and disinfected. Families who pick up meals at Swift Elementary School can find another feeding location at the Student Meal Plan web page.
2.       Following guidance from Tarrant County Public Health and the City of Arlington Public Health Authority, employees ​at Swift Elementary are being ​notified about their potential exposure. There are approximately 15 employees on campus daily. Employees working in the meal distribution program are required to wear a face covering, protective gloves and practice social distancing at all times. These regulations are strictly enforced.
3.       Arlington ISD officials continue to monitor the guidance around food safety from local, state and national health organizations. At this time, Tarrant County Public Health advises that the risk of anyone contracting COVID-19 from picking up food at Swift Elementary School is very low. The Centers for Disease Control and Prevention, www.cdc.gov,  has a robust FAQ section that includes their position that there is no evidence at this time that a person can contract COVID-19 from food products.
The Arlington ISD realizes that there is a great need for the meal delivery service and will continue to provide it at 23 locations. Each day approximately 14,000 children receive a hot lunch and a cold breakfast for the following morning. The District remains committed to providing this service while following the strictest protocols advised by public health organizations.  
STAY INFORMED WITH AISD NEWS & EVENTS