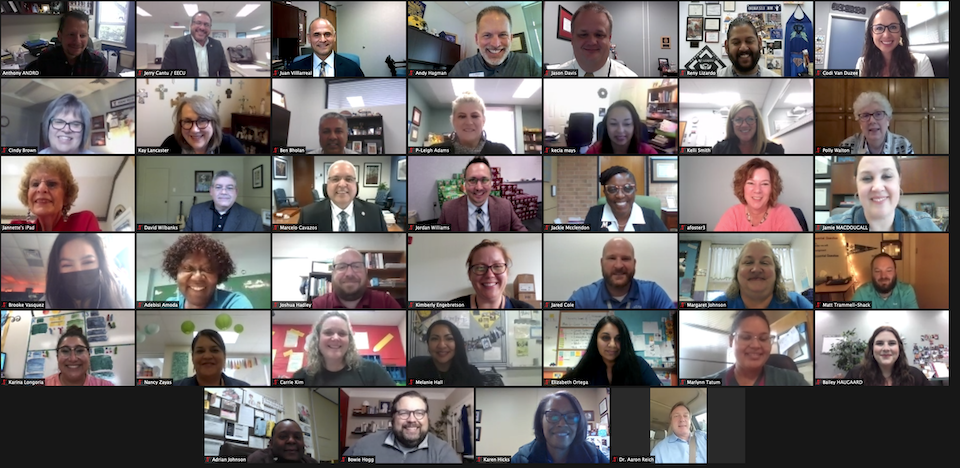 Teachers surprised in Zoom meeting
Fifteen Arlington ISD teachers got a good surprise when they entered a Zoom meeting Tuesday afternoon.
They were expecting to participate in a virtual learning focus group during their lunch hour. Instead, they found out they were being honored as Kiwanis Woodrow Counts Teacher of the Year recipients.
Arlington ISD Superintendent Dr. Marcelo Cavazos broke the news to the winners. He was joined on the call by Kay Lancaster from the Kiwanis Club of Arlington, Jerry Cantu from EECU Credit Union, the principals from each school and several members of the Arlington ISD Board of Trustees.
"It was a great way to spend some time honoring some of our best and brightest teachers," said Cavazos.
During the call, Sam Houston High School's Joshua Hadley way named the Kiwanis Woodrow Counts High School Teacher of the Year, Shackelford Junior High's Matthew Trammell was named the Kiwanis Woodrow Counts Junior High Teacher of the Year and Fitzgerald Elementary's Fatiyat Adebisi Amoda was named the Kiwanis Woodrow Counts Elementary Teacher of the Year.
Each of the winners received $600 and a plaque thanks to the Kiwanis and EECU.
In addition to the three winners, 12 more teachers were awarded $300 each for special recognition thanks in part to a grant the Kiwanis Club received from the Arlington Tomorrow Foundation along with EECU.
Special Recognition Teachers of the Year included: Elizabeth Ortega from Bowie High School, Jared Cole from Arlington College and Career High School, Melanie Hall from Lamar High School, Denise Bailey from Carter Junior High, Bailey Haugaard from Bailey Junior High, Adrian Johnson from Workman Junior High, Brooke Vasquez from Pearcy STEM Academy, Karina Longoria from McNutt Elementary, Marlynn Tatum from Roark Elementary, Kimberly Engebretson from Crow Leadership Academy, Margaret Johnson from Beckham Elementary and Carrie Kim from Morton Elementary.
"Next year is our 60th year and it's such an honor to be able to work with the Arlington ISD to honor our teachers," Lancaster said. "This year they've worked so hard. This is part of our heritage, our history. We've worked together for so many years."