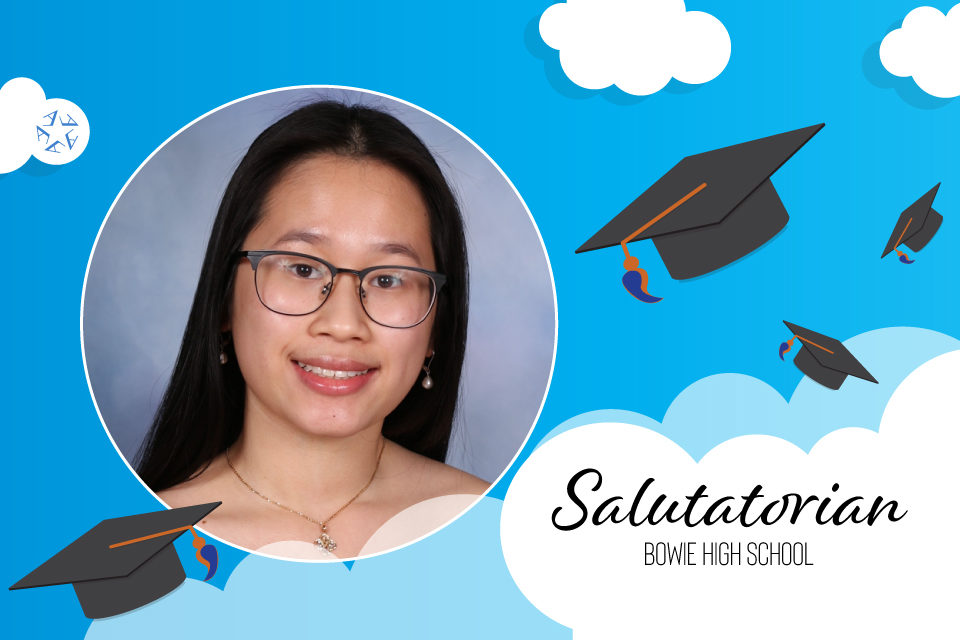 In the week leading up to Arlington ISD graduations June 3 and 4 at AT&T Stadium, we are celebrating the Class of 2021 valedictorian and salutatorian for all seven Arlington ISD high schools.
Name: Christina Le, Salutatorian
School: Bowie High School
College attending: University of Texas at Arlington
Intended major: Nursing
Attended Arlington ISD schools since: Pre-K
What advice would you give students entering high school?
I would tell students entering high school to enjoy every minute of it. It may seem daunting at first, but time really does fly by. Go get involved with activities at your schools like going to the football games, going to prom, joining clubs, etc. I didn't do a lot of this, so my high school experience was way different than everyone else's. Looking back, I think high school would have been better if I had just taken a break from my studies and made memories with my friends.
What was the most difficult lesson you've learned while in school?
The most difficult lesson that I've learned while in school is that your life doesn't solely rely on school. Since freshman year, I was so focused on my studies. I sacrificed my social life and making memories with my friends so that I could study and get high marks. This way of thinking really took a toll on my mental health, and I was constantly stressed. Near the end of high school, however, I started to try to balance both my school and social life. Because of proper time management, I was able to balance both and became much happier. Time management is a good skill to have, and it'll help you out in the long run. It has tremendously improved my mental health.
What's the most meaningful moment you will take from this school year?
The most meaningful moment that I will take from this school year is the fact that my teachers tried their absolute best to educate us despite the difficult transition for them and us alike. It felt very heartwarming knowing that the teachers believed in their students even when we didn't believe in ourselves. As hard as they worked, it made me realize to cherish the effort they put in, because the teachers came to class everyday with little to no human interaction doing their absolute best to ensure we had the best education possible.
What makes you the proudest about experiencing your senior year in COVID-19?
I think what makes me proudest about having my senior year in COVID-19 is that it proves that there's really nothing I can't do. I was able to complete our assignments without as much help as I would've had if school was in person this year. There were so many obstacles many of us have faced this year, but we managed to make it out alive. Overall, this year has really helped me discover a side of me that I never knew.
What do you see yourself doing 10 years from now?
In 10 years from now, I see myself being a nurse specializing in cardiology or neurology. I've always had this fascination with the heart after learning about it in PLTW Biomedical Science. I'm in a dilemma because I also like learning about the nervous system. I hope to buy a nice home, live a comfortable lifestyle, and travel the world 10 years from now. It has been my dream to travel the world ever since I was little. I just enjoy watching nature and experiencing new things. Also, I want to try to learn how to invest in real estate.