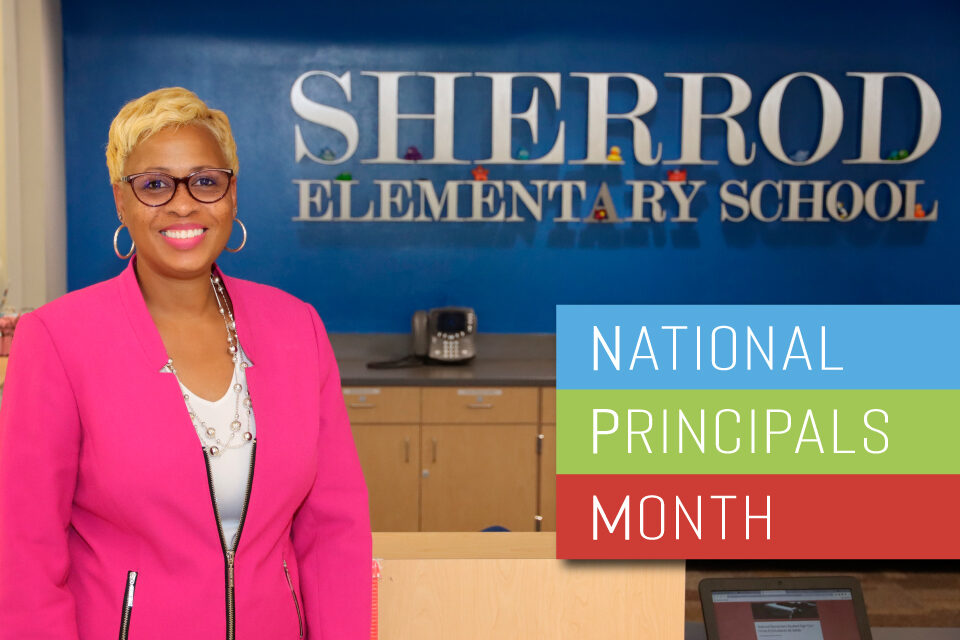 October marks National Principals Month, and we want to honor the 76 principals we have in Arlington ISD who work hard in our vision of making the Arlington ISD a premier school district and leader of education.
It may be her "rookie year" at Sherrod Elementary, but principal Clarita Thompson has been making a mark in Arlington ISD since 2000. From starting as a math teacher to becoming an academic dean at Workman Junior High, Thompson has always valued education and desired to see students excel. As we highlight principals this month, let's learn more about our first-year principal.
What was your childhood aspiration, and how does it align with your current position as a principal?
My childhood aspiration was to be a pediatrician because I loved children and helping others. As a child I enjoyed "playing school," where I was always the teacher. I earned my bachelor of science in commerce and business administration from the University of Alabama, so education was not my first career choice. However, during my career in business, I thoroughly enjoyed conducting training and came to realize education was my calling. I started substitute teaching in Arlington in 1999, and realized I had found my passion. This all aligns with my current position as a principal because I am blessed to be instrumental in working with our amazing scholars, faculty and staff at Sherrod to ensure we are providing the best educational experiences.
What's your most fulfilling part of every day or every year?
The most fulfilling part of every day or every year is that each day is a new day of possibilities and positive outcomes. It is fulfilling and rewarding to see others grow and learn as I continue to grow and learn as well.
What's your favorite memory as a principal so far?
My favorite memory as a principal so far occurred when I was teaching a class and one of my scholars asked how to spell 'principal.' Before leaving the classroom, she handed me a folded piece of paper that said 'Best Principal Ever' with hearts. I am so thankful and proud she took the time to make me a sign and I have it framed in my office.
Who was your favorite childhood principal, and what did you learn from them?
My favorite childhood principal was Mr. Rhodes. He was fair, consistent and took the time to talk to us in the cafeteria and hallway. He attended our extracurricular activities, smiled with pride when our teams were successful and gave encouraging words if our teams were defeated.
What legacy would you like to leave behind? How would you like to be remembered?
The legacy that I would like to leave behind is one knowing I made a positive difference in the lives of those I encountered, and their lives were enriched as a result. I would like to be remembered as an educator who was truly passionate about education, one who made a difference in the world, someone who was blessed and a blessing to others, as we all strived for excellence each day.