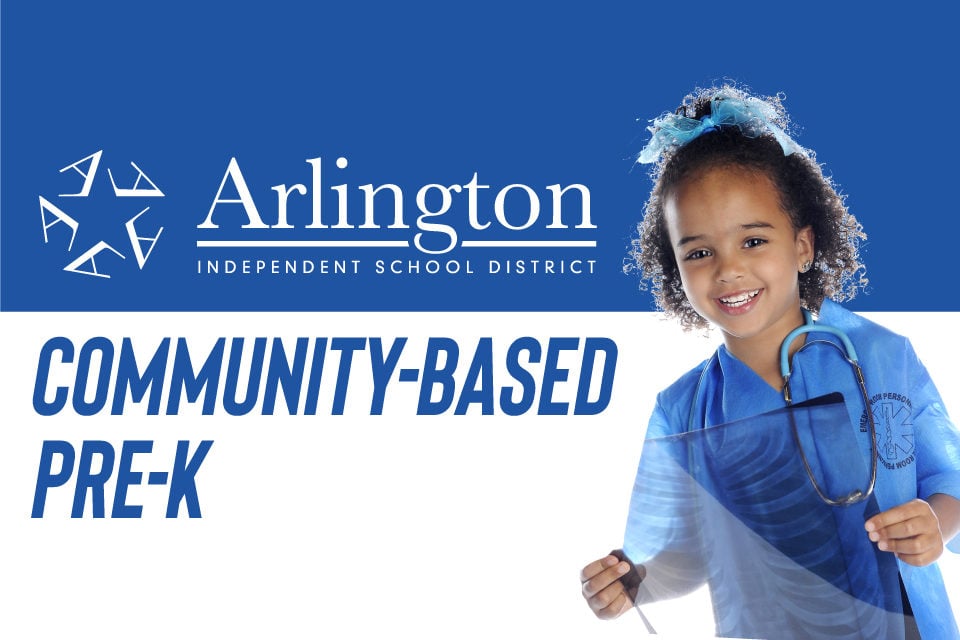 Arlington ISD's community-based pre-K program for three-year-olds is the perfect solution for working parents who want their kids to get started on their educational journey but also need full-day childcare.
Arlington ISD's community-based pre-K is a half-day pre-K program for three-year-olds located in six area childcare centers. By enrolling in pre-K at the childcare center, students receive seamless, convenient day care both before and after the pre-K school day without ever having to leave and go to another care location. Plus, the pre-K program is taught by an Arlington ISD teacher with the same outstanding play-based curriculum, materials and technology used at Arlington ISD campuses.
"We're excited about how this partnership with local childcare centers offers a resource for working parents, helps childcare centers with enrollment and allows the district to reach even more three-year-olds," said Dr. Jackeline Orsini, Arlington ISD early childhood director.
It's a win for everyone.
"It's been a wonderful experience for our children and a huge help for the families we serve," said Josie Villareal, director of Allstars Learning Center, one of Arlington ISD's original childcare center partners. "It has been a win-win for all of us. Our working families get to drop off their child early in the morning and some of the children get picked up late into the evening.  And the children still get the services that Arlington ISD offers without parents having to pick them up after the three hours of pre-K."
Registration is open now for all Arlington ISD pre-K programs. In addition to community-based pre-K, Arlington ISD offers half-day pre-K for three-year-olds and full-day pre-K for four-year-olds at district elementary schools, along with ESL and bilingual options. Pre-K is free for those who qualify, but there are also a limited number of full scholarships for families who don't qualify along with tuition-based options.
Register today or learn more at aisd.net/prek, and read why Arlington ISD pre-K is the right choice for your child.