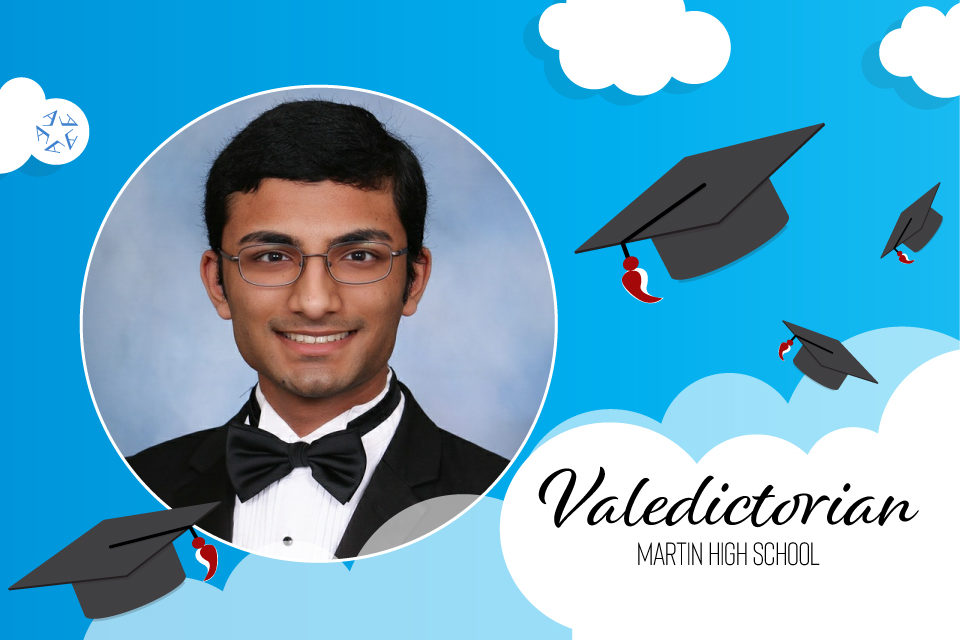 In the week leading up to Arlington ISD graduations June 3 and 4, we are celebrating the Class of 2021 valedictorian and salutatorian for all seven Arlington ISD high schools.
Name: Abhay Mittal, Valedictorian
School: Martin High School
College attending: University of Texas at Austin
Intended major:  Electrical and computer engineering
Attended Arlington ISD schools since: Pre-K
What advice would you give students entering high school?
The transition from middle school to high school may appear daunting, but if you take it one step at a time, take the time to interact with your teachers outside the classroom, and seek out friends with similar interests, then the transition will be much more seamless.
What was the most difficult lesson you've learned while in school?
Time management is the bane of every student. With all of the homework assignments, extracurricular activities and family commitments, it sometimes feels as though there is no free time. It took me a while to realize that it's better to focus on quality rather than quantity.
What's the most meaningful moment you will take from this school year?
Anyone who has taken chemistry with Mrs. Berry knows about Affirmation Fridays. It is a day to recognize someone in your life that has had a positive impact on you. On one such day, I received an affirmation message from Mrs. Berry, which contained words of encouragement and support. It was a simple gesture, but it meant the world to me at the time.
What makes you the proudest about experiencing your senior year in COVID-19?
The only constant in life is its unpredictability. While I certainly wasn't expecting to experience my senior year in a global pandemic, it's good to know that many students were able to adapt to the situation, including myself.
What do you see yourself doing 10 years from now?
I'm not quite sure, but if I had to guess, I see myself working at a tech company at the forefront of technological innovation. I'll be, as the kids these days say, getting that bread, so to speak.