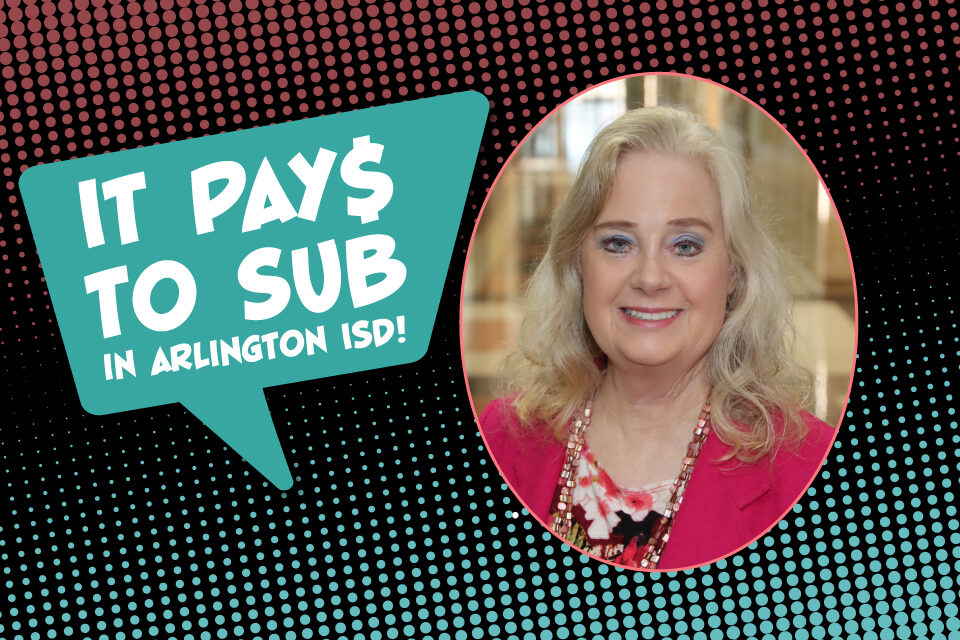 Thinking of Retiring? 
Retirement sounds like a grand idea until you realize a few things. You might end up bored, tired of watching grandkids or realize your budget is looking a little slimmer than it used to. That hasn't been the case though for Patricia Lee since she decided to substitute teach in the Arlington ISD.
"Substituting gives me a purpose and a way to give back to the community I live in," said Lee, a retired school librarian. "I never would have thought I would substitute when I retired, but I tried it and really liked it. I have been substituting for eight years now, and for three of those years I even helped as a full-time tutor."
The Austin native is all about improving education for students at every level and has taught in schools across Texas diligently working toward that goal.
"After being a teacher and librarian, I see and appreciate how hard teachers work, and I hope to relieve a little of their stress by helping substitute in the classroom," said Lee. "Seeing the high school students learn and apply lessons to the real world makes me feel like the world will go on and be a better place. And in the elementary schools, it's all about the little things – the little hug a child gives me or receiving a drawing just for showing up that day to read a story."
Why Sub?
Not only is it a way for her to help teachers, but subbing also helps her earn extra cash for the things that matter most to her.
"I was able to work and save money to buy a larger home in a nicer neighborhood," she said. "Now, I am able to travel more and get some extra things I wouldn't be able to have if I were not substitute teaching. I like having a part-time job I can go to when I want and make as little money or as much money as I want. It gives me a nice margin of security in my budget."
Lee plans to continue subbing because she can make a positive impact on her community and earn some extra cash along the way.
If your retirement is missing something, then come substitute in the Arlington ISD. Come make a difference and make some extra cash. Find out more information about subbing and other available opportunities here. Don't wait! Apply today and see why it pays to sub in the Arlington ISD.