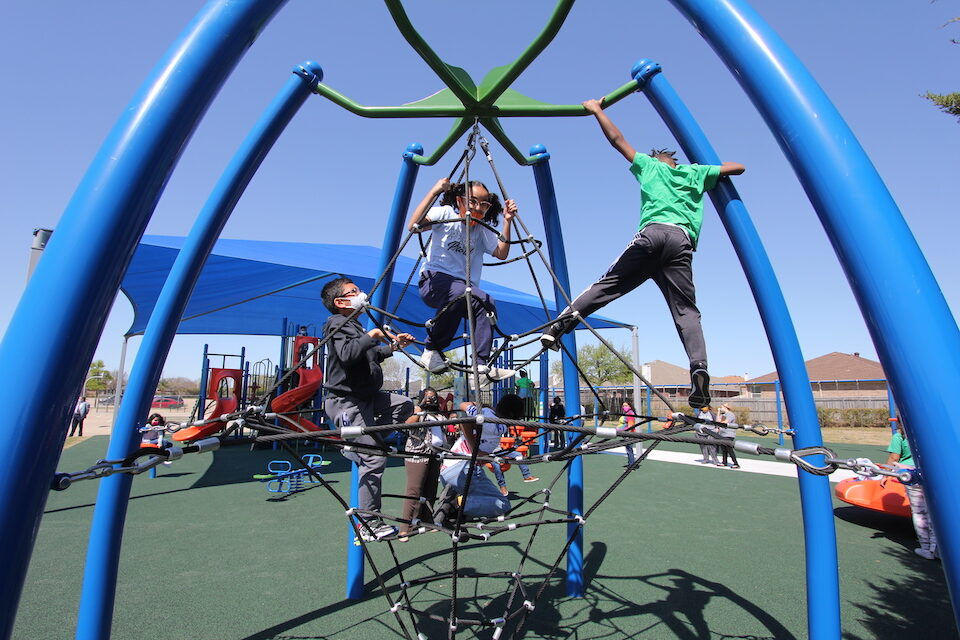 It was another busy year for Arlington ISD's bond programs. The 2014 Bond came to a close and the 2019 Bond launched more projects. All of it was and is geared toward giving students access to a remarkable education and world-class opportunities. And all of it is thanks to you. Your support makes these bond programs possible and is having a direct impact on tens of thousands of students today and for generations to come. So, thank you!
Here are 10 of our top bond stories from the year that was in no particular order:
The 2019 Bond includes new playground for all elementary schools, and 17 of them got their new playgrounds in 2021. This story is about the first new playgrounds to open at Pearcy Elementary. And here's another fun one from Bebensee.
This was a big deal! After years of planning and construction – and then COVID-19 – the district's new Center for Visual and Performing Arts finally opened for students. The final project in the 2014 Bond program is a state-of-art facility that is catapulting the district's fine arts program – already nationally recognized – to an even higher level. Unique among school districts, the facility has garnered a number of awards, including the top spot in Dallas Business Journal's Best Real Estate Deals of 2020 in the Community/Neighborhood Impact category.
Right next to the CVPA is the new Athletics Center, another 2014 Bond project and home to the district's first-ever natatorium. Though this facility opened in late 2020, this year, Arlington ISD launched its own aquatics club based at the natatorium and started an elementary water safety program for all district third graders. Learn more about the Arlington ISD aquatics club.
Back in March, brand new band trailers – one for each traditional high school – rolled up in front of the CVPA. The six full-size semi-trailers – each bearing the name and logo of a district high school – are designed specifically to transport marching band equipment like instruments and uniforms. 
A new Webb Elementary is being built right next to the current Webb Elementary, one of four school replacements funded by the 2019 Bond. With construction next door, Webb's students enjoy watching and keeping up with the construction progress of their future school home. Construction of the new Webb kicked off back in April with a groundbreaking ceremony where Webb students in hard hats helped turn the ceremonial dirt.
6. District breaks ground on new Berry and Thornton elementary schools
Technically, this is two stories, but the groundbreaking ceremonies for Berry and Thornton were only one week apart earlier this month. The original schools – now demolished – were built the 1950s, so it was just time to replace them. The new schools have been carefully designed to inspire Arlington students and give them every opportunity to learn and succeed in the 21st century.
In addition to Webb, Berry and Thornton, the 2019 Bond is also going to build a new Carter Junior High. Design kicked off in November with several design charettes, which are intensive design and planning meetings. In the first charette, the architect team met with Carter teachers in the current Carter library to get their input and hear their hopes and vision for the new building.
Crow isn't being replaced by the 2019 Bond, but it has had some major changes. There's a kitchen addition, a new parking lot, a new classroom wing and finally a new gymnasium. And the new spaces all opened in time for the beginning of this school year.
While most people will never go in the building, the improvements and freezer addition to the district's food headquarters on Arkansas Lane, funded by the 2019 Bond, were significant and badly needed for a district that provides 37,500 lunches on an average school day, not to mention thousands of breakfasts.
School buses may not be flashy, but they are crucial to making sure kids get to school – and to all of the opportunities offered in Arlington ISD schools. And the bond is crucial to making sure Arlington ISD has not only enough buses, but good buses that are safe for students and drivers.
It's hard to limit a list of bond stories to just 10, because there are so many projects going on. And you can't leave out this story about Gunn Junior High and Fine Arts Dual Language Academy because it's pretty unique. A construction project ahead of schedule is practically unheard of! But that's what's happing at Gunn, which is getting a huge addition and renovation to the existing building.
On to 2022
2021 was a great year. But now, it's on to 2022 and even more Bond 2019 projects! Don't forget, you can always learn more about the 2019 Bond program at aisd.net/bond2019.