We know the path back from COVID-19 isn't an easy one, but we've seen tremendous growth from our students over the past year. Their hard work and that of Arlington ISD teachers, counselors and staff who focused on several key areas
have earned the district a rating of 85.
Classroom Instruction
Working with students in small groups in math and English classrooms

Priority on closing learning gaps with customized instruction to meet student needs
Summer School
More than 11,000 students attended summer school following 2020-21 year

More than 7,000 in summer school in 2022

STEM and enrichment opportunities such as music, art and dance being offered to elementary school students
Tutoring
Students who didn't pass STAAR received up to 30 hours of free tutoring

Each student received an IEP (Individualized Educational Plan) to help meet their needs

Tutoring offered before or after school or as part of curriculum
We are making gains to get students back where they expect to be.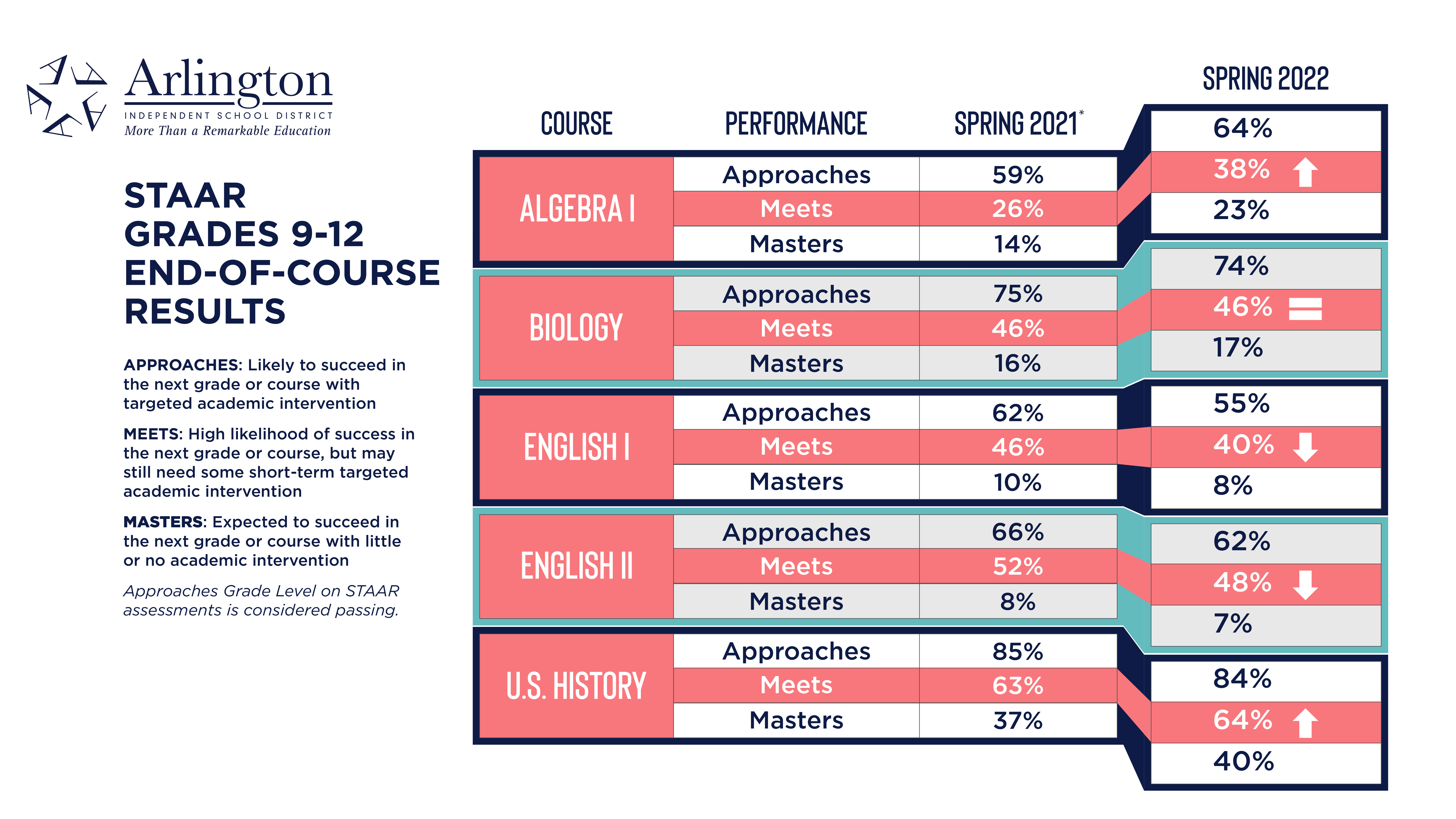 FAQs STAAR 2021-22 School Year:
STAAR is the State's testing program based on state curriculum standards in core subjects, including reading, mathematics, science and social studies.
STAAR tests measure what students in grades 3 – 8 have learned in each grade and whether or not they are ready for the next grade. STAAR End-of-Course (EOC) tests measure what students have learned in high school level courses such as Algebra I, English I, English II, Biology and U.S. history.
STAAR test results are one part of a three-part calculation used to determine the overall "accountability rating" for public school districts:
STAAR Test - 40%
College Career and Military Readiness (CCMR) - 40%
Graduation Rate - 20%
Arlington ISDs 2021 graduation rate is 87.7%.
The Arlington ISD is projected to receive a B rating with a numerical score of 85.
Each school receives a grade based on their school's test results. These results are published on the TEA website. This year, schools with a score of 69 or below will receive a "Not Rated." Scores will be available on the TEA website on August 15, 2022.
Arlington ISD students continue to excel.
Learning loss hasn't stopped Arlington ISD students from excelling. There have been many success stories in the 2021-22 school year alone.
Students are on the path back.
Standardized tests have never defined the Arlington ISD, but we know it's one tool
we can use to measure student success. We are committed to growing whole and
well-rounded young adults who are prepared to excel in college, career and beyond.
A WORLD-CLASS EDUCATION WITH THE FREEDOM TO EXPLORE
Preparing Students for a Lifetime of Success