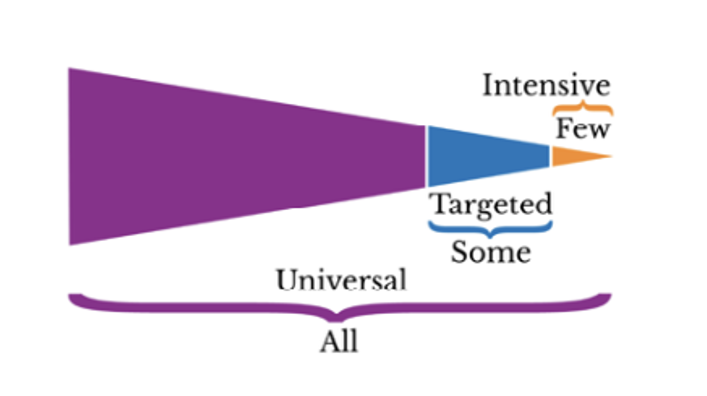 Multi-Tiered System of Support (MTSS) is an integrated, comprehensive framework that aligns academic, behavioral, and social-emotional learning in a fully integrated system of support to ensure equitable access and opportunities for all students to achieve academic success.
MTSS involves universal intervention for all, targeted intervention for some, and intensive intervention for a small number of students. -TIER Network
SFIO Interventions Team
The SFIO Interventions team provides support to teachers, instructional coaches, and administrators across the district.  Interventions Specialists and Coaches provide guidance to support the MTSS framework.  Specialists and Coaches also provide district wide professional learning and campus coaching to support student academic interventions.
PURPOSE
We are a culture of collective responsibility and accountability. We problem solve to intervene where it matters most for every student.
BELIEFS
We believe:
Every person who interacts with a student is a partner and stakeholder and commits to continually grow and support students.
The whole student receives support in the areas of academics, social and emotional learning, and behavior.
Collaboration is having the right people holding the right conversations around the right data.
Quality instruction ensures that all learners can access and participate in meaningful, challenging learning.
Interventions and supports follow a cycle of planning, implementing, and evaluating the effectiveness.