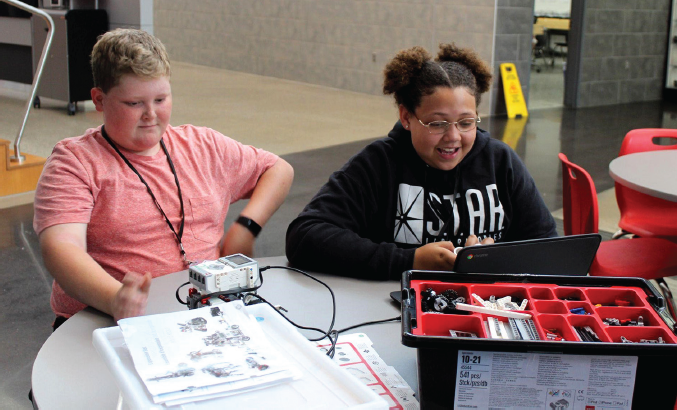 After a break for the past two summers, the technology integration and innovation department is happy to announce the return of Camp Innovation – a week-long camp that empowers students to develop relevant, future-ready skills via a variety of innovative technologies. Camp Innovation includes rotations involving robotics and programming, as well as a lot of other fun activities. Camp Innovation serves students currently in grades 4-9.
At Camp Innovation, students are exposed to a variety of innovative technologies and learning experiences designed to:
• Build their foundational knowledge and skills for computer science readiness
• Develop the critical thinking and problem-solving processes required for coding
• Provide them with hands-on opportunities to develop coding skills
• Increase their communication, collaboration, and creativity skill sets
Tamera Jackson, librarian at Little Elementary, said, "It is a great summer camp for students wanting a hands-on learning experience using many technology elements. My students have learned coding, music through technology, and a variety of robotics platforms. Camp Innovation is the perfect opportunity for students with an interest in technology to learn about different platforms." Dates for this year's one-week camps are June 6-9, June 13-16 and June 20-23. Registration is scheduled to open on April 1. Camp Innovation will be held at the Arlington ISD Dan Dipert Career + Technical Center and is free for students. Transportation will be available for Title I students from either nearby elementary or junior high campuses. Learn more information about Camp
Innovation at https://bit.ly/campinnovation2022 or contact Susan Anderson in TI².