Arlington Back to School Kick-off
The annual Arlington ISD Back to School Kickoff event sponsored by the Gene and Jerry Jones Family Foundation allows Arlington ISD students to get backpacks, school supplies, and more to prepare for the school year is slated for 8 a.m. to 2 p.m. in August at AT&T Stadium.
College and Career Expo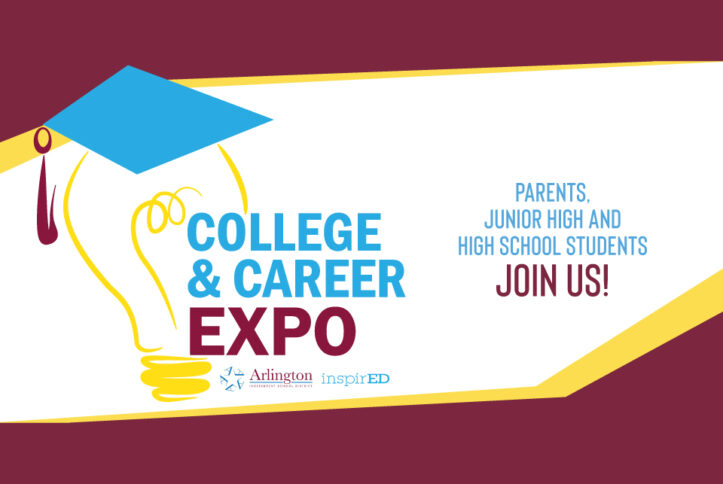 It is that time of year again to register for Arlington ISD's annual College & Career Expo. Our community is invited to attend the Expo on March 8, 2022, from 5:30-8 p.m. at the Dan Dipert Career and Technical Center. Arlington ISD students in grades 9-12 will also have the opportunity to attend a portion of the College and Career Expo in their classes during the school day.
 In addition to the classroom sessions, the in-person portion of the Expo will be taking place at the CTC. More than 70 colleges and local businesses are ready to equip students in grades 7-12 with proper guidance and resources for college, internships, and part-time and full-time employment opportunities. 
 The Expo will include sessions focusing on college prep, paying for college, and college athletic recruiting and scholarships. During each session, attendees are welcome to sit in and take notes or they can continue to explore the Expo and speak with representatives from various colleges and local businesses.
 WHO WILL BE THERE?
Colleges scheduled to be in attendance include the University of Texas at Arlington, Dallas Baptist University, and others. Admissions mentors will be available to help students with college preparation questions.  
Mentors from Lockheed Martin and inspirED will also be available to speak with high school students about employment opportunities upon graduation. Translation services for Spanish-speaking parents and students will be available throughout the Expo.
SHOULD I BRING ANYTHING?
Students are encouraged to dress in business professional attire and bring several copies of their resumes.
THE PURPOSE OF THE EXPO?
Our district's vision and goal is a 100% graduation rate from our high schools. The Expo is intended to give students a jump-start on their future college and career goals. The event will provide resources that will aid future graduates with a game plan upon graduation. To register for the Expo, click here. Doors will open at 5 p.m. 
We look forward to seeing you and helping you map out your child's future! 
Family Expo and Resource Fair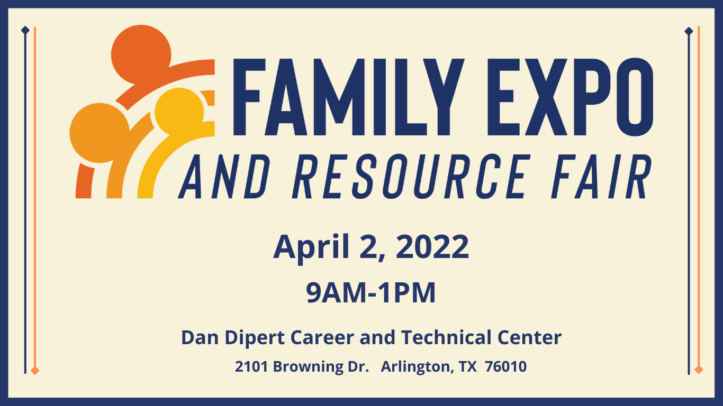 The Arlington ISD Parent and Community Engagement department is hosting a Family Expo and Resource Fair Saturday, April 2, 2022. The expo, in partnership with Alpha Kappa Alpha Sorority Inc. Xi Theta Omega Chapter and The Arlington Foundation for Excellence in Education, is for parents, students, and the entire Arlington community.
Vendors and organizations from Tarrant County College, Workforce Solutions, Arlington Charites, and many more will be in attendance to offer students and families tips and opportunities, employment, and resources available to community members. The expo will also have educational workshops that will broaden attendees' awareness and skills in healthcare, wellness, and financial literacy.
Our primary goals for this year's event are to:
Reshape and transform families
Strengthen family and community partnerships
Provide healthcare and wellness information
Improve and develop financial skills
Workshops and resources will be available in both English and Spanish, so all are welcome to attend! To view the workshops and learn more, click here. We look forward to seeing you on April 2!
Arlington Father FEST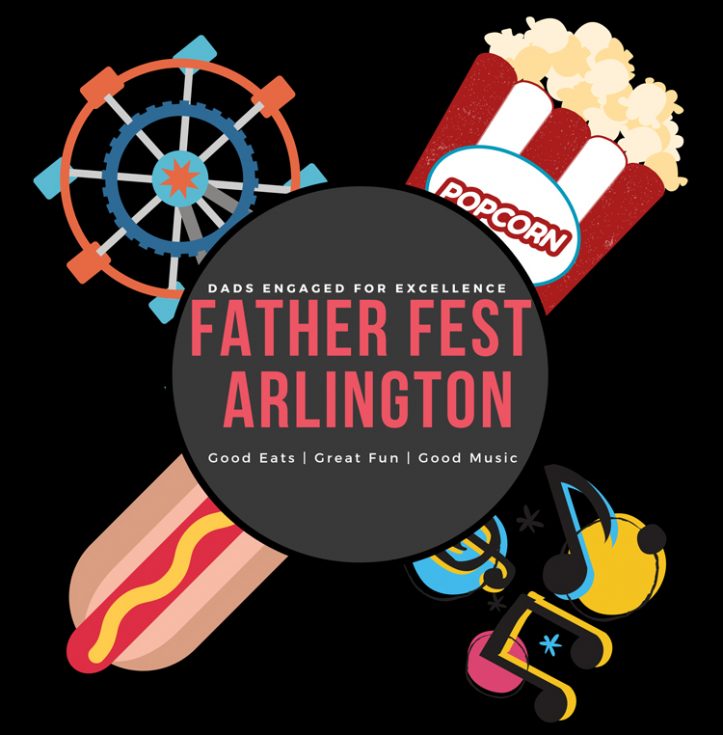 Get ready for live music and loads of family fun! Father FEST Arlington 2022 will be held at the Gene and Jerry Jones Family Field at Workman Junior High School!
The free outdoor event is a fun celebration of fatherhood and families! All are invited to enjoy live music, food, vendors, and fun interactive family activities. Families will strengthen bonds as they have a great time together and leave empowered and equipped with resources for everyday life. Social distancing and masks will be required.
The festival will bring community partners and resources together to equip and support families, particularly for the summer months. Get free books for summer reading, free vision screenings, oral health lessons, giveaways, and a whole lot more. Plus, there will be important information and resources from partners like Arlington Public Libraries, Arlington Police Department, the YMCA, and many more. Arlington Parks and Rec will be there with information on summer camps for kids, Camp Gladiator will have an obstacle course for kids and adults, and Arlington ISD's FFA students will help families plant a seed and explain how to care for it at home. And that's just the beginning.
Father FEST is an initiative of Arlington ISD Dads Engaged for Excellence, a program designed to encourage dads, uncles, brothers, and all adult males to serve as positive role models and become more active in their students' education.