Overview
AISD ENERGY MANAGEMENT OVERVIEW
The single most expensive commodity purchased by the AISD is energy. It is our goal, in fact our charge, to consume energy as efficiently as is possible without creating a negative impact on the learning environment.  We as a district can only succeed by involving all of the students, faculty, staff, and administration in our energy conservation efforts.
The Plant Services department is responsible for developing and implementing guidelines to manage our consumption of electricity, natural gas and water. A major tool is the  computerized Energy Management System (EMS). This system permits us to monitor and control the air conditioning systems in the majority of the district's facilities.
It is not our intent to adversely affect the indoor environment or personal health of our customers.   Use all the energy you need, but do not waste it.  Remember, no reduction in energy use is too small to capture, so please when possible, turn off lights; close exterior doors and windows; turn off computers, printers, and office equipment when they are not needed; and report water leaks and dripping faucets to the Plant Services Department.
If you have any questions or ideas at any time, please contact the Energy Manager.

---
ENERGY STAR
The AISD Energy Management Team would like to congratulate the 47 campuses that received the Energy Star Certification from the EPA! The work that you all do to save energy in your buildings is the key to proudly saying, "We are an Energy Star Certified Campus"! Thank you for all of your hard work over the years since the energy committee began to strive for campus participation in the Turn-if-off campaign. Please click on the Energy Star logo below for a full list of certified buildings. You are all the TRUE Energy Stars!
---
Announcements
2019-2020 Energy Committee
This year's Energy Committee is in full swing! The District meeting on September 24th had a great turn out to listen to our guest speaker, Juan Garcia present this year's energy program, Watt Watchers. AISD is partnering with Watt Watchers of Texas this year to bring all new resources to the committee to educate their campus about energy awareness. Traci Peterson with Arlington Water Utilities was also present to invite everyone to participate in this year's coloring contest! Information and entry forms can be found at www.SaveArlingtonWater.com. We cannot wait to see everyone at next month's District meeting on November 12th!
2018-2019 Energy Committee Awards Ceremony

On Monday, May 13, 2019 we hosted our Annual Energy Committee Awards Ceremony to show our appreciation for all the Energy Committee does throughout the year! Our Energy Committee members help spread awareness and promote conservation. We would like to extend thanks to everyone through the district that takes the time to turn off their lights or unplug that fridge before a long break..."because it is the right thing to do"!
So many people did an amazing job this year! Please see our full presentation & album here.
Overall Winner for 2018-2019
Short Elementary School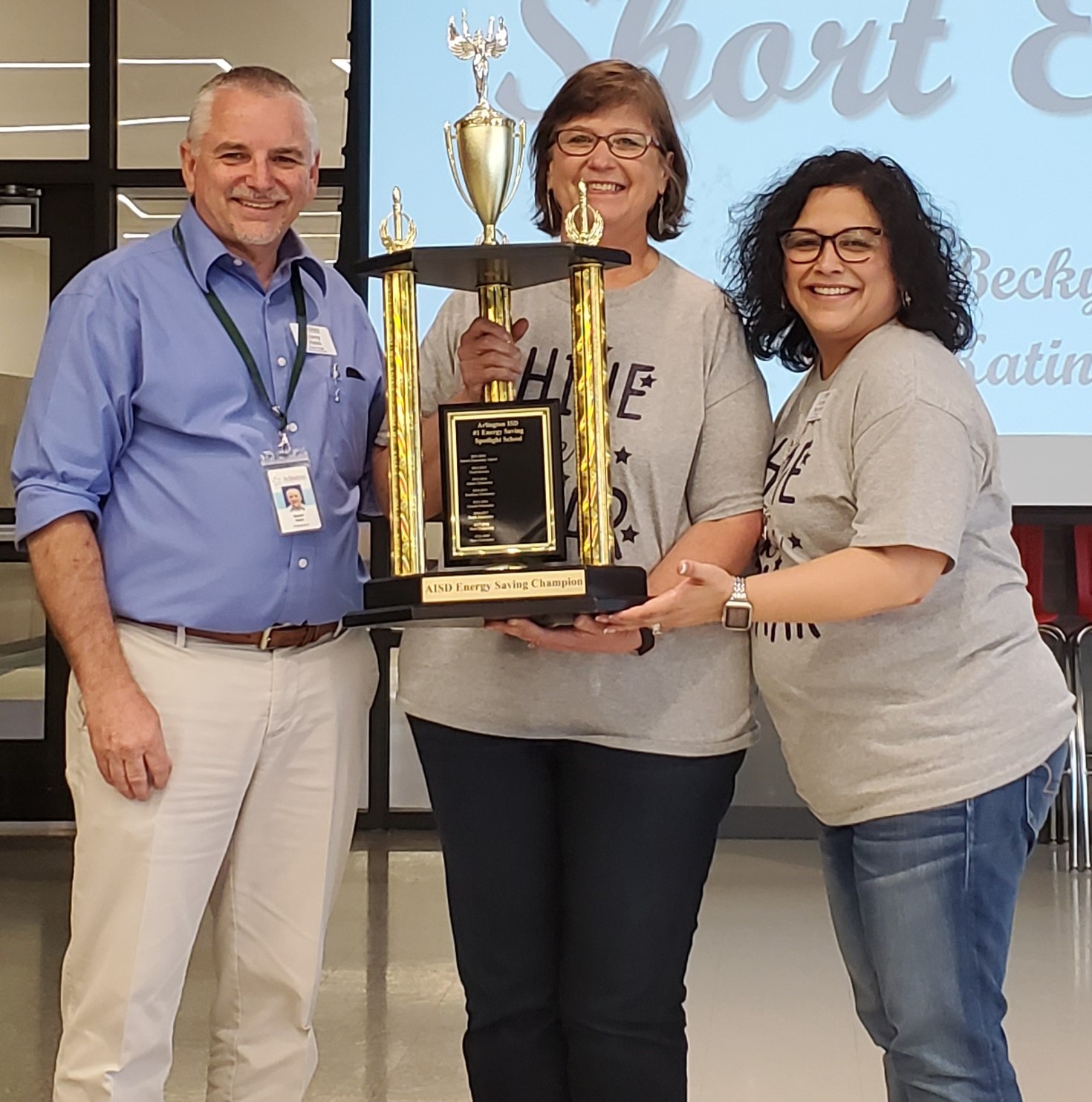 Pictured (from left to right): Danny Helm, Becky Bronstein and Katina Martinez
Participation Point Champions
Peach Elementary & Pearcy Elementary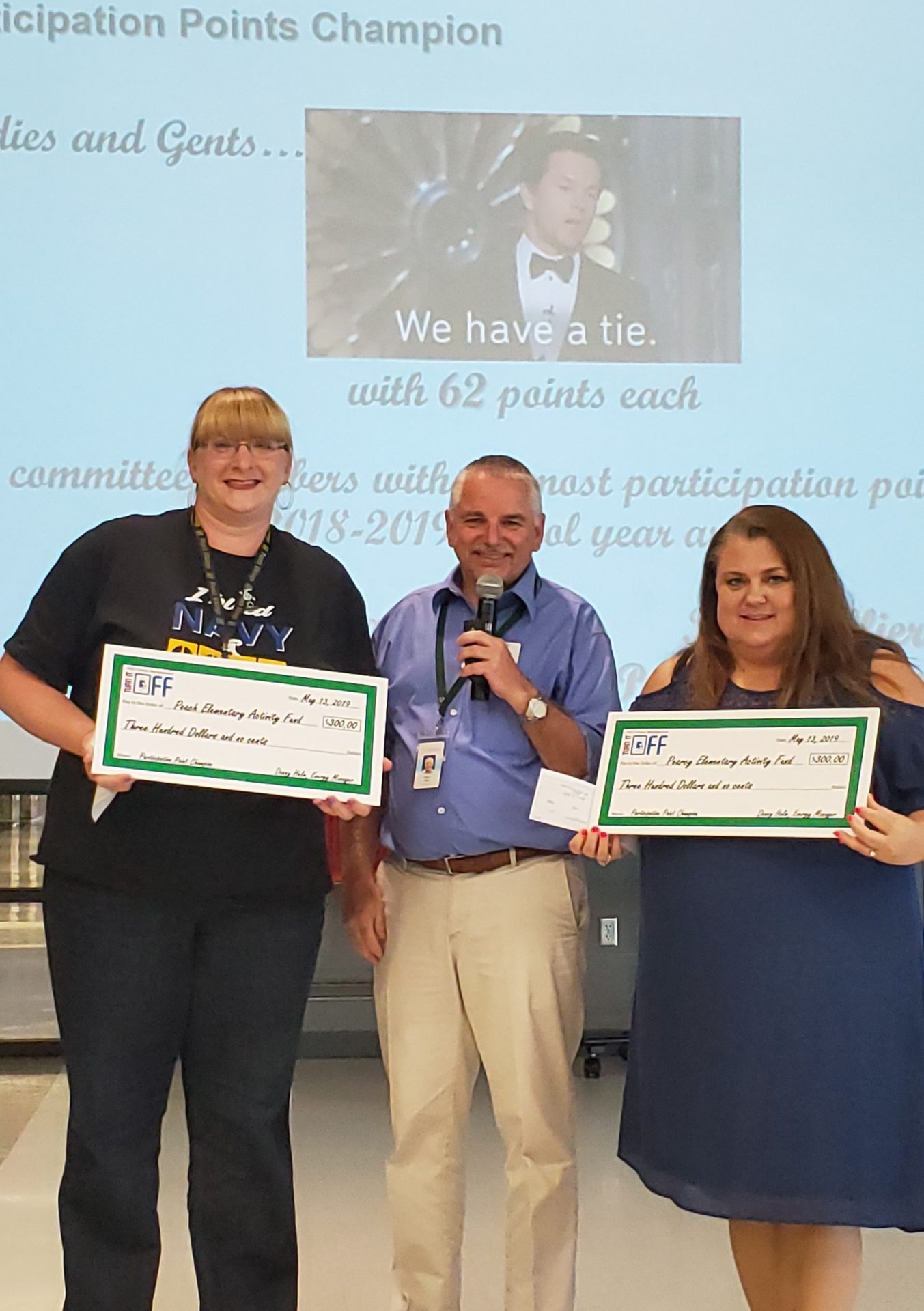 Pictured (from left to right): Stephanie Davis, Danny Helm, Keri Collier

Elementary School (1st)

Elementary School (2nd)

Elementary School (3rd)

Short Elementary


Pictured (from left to right): Danny Helm, Becky Bronstein, Katina Martinez

Pearcy Elementary


Pictured (from left to right): Danny Helm, Keri Collier, Yolanda James

Peach Elementary


Pictured (from left to right): Danny Helm, Stephanie Davis
Junior High School

High School

Auxiliary Building

Boles Junior High


Pictured (from left to right): Danny Helm, Greg Smith, Scott Gutkowski

Juan Seguin High School


Pictured (from left to right): Danny Helm, Angelita Clay

Administration


Pictured (from left to right): Danny Helm, Martha Edwards
2019 Super Saver 5k Fun Run
Even though this year we almost got rained out we still had a successful race! Thank you to everyone who signed up to support energy awareness!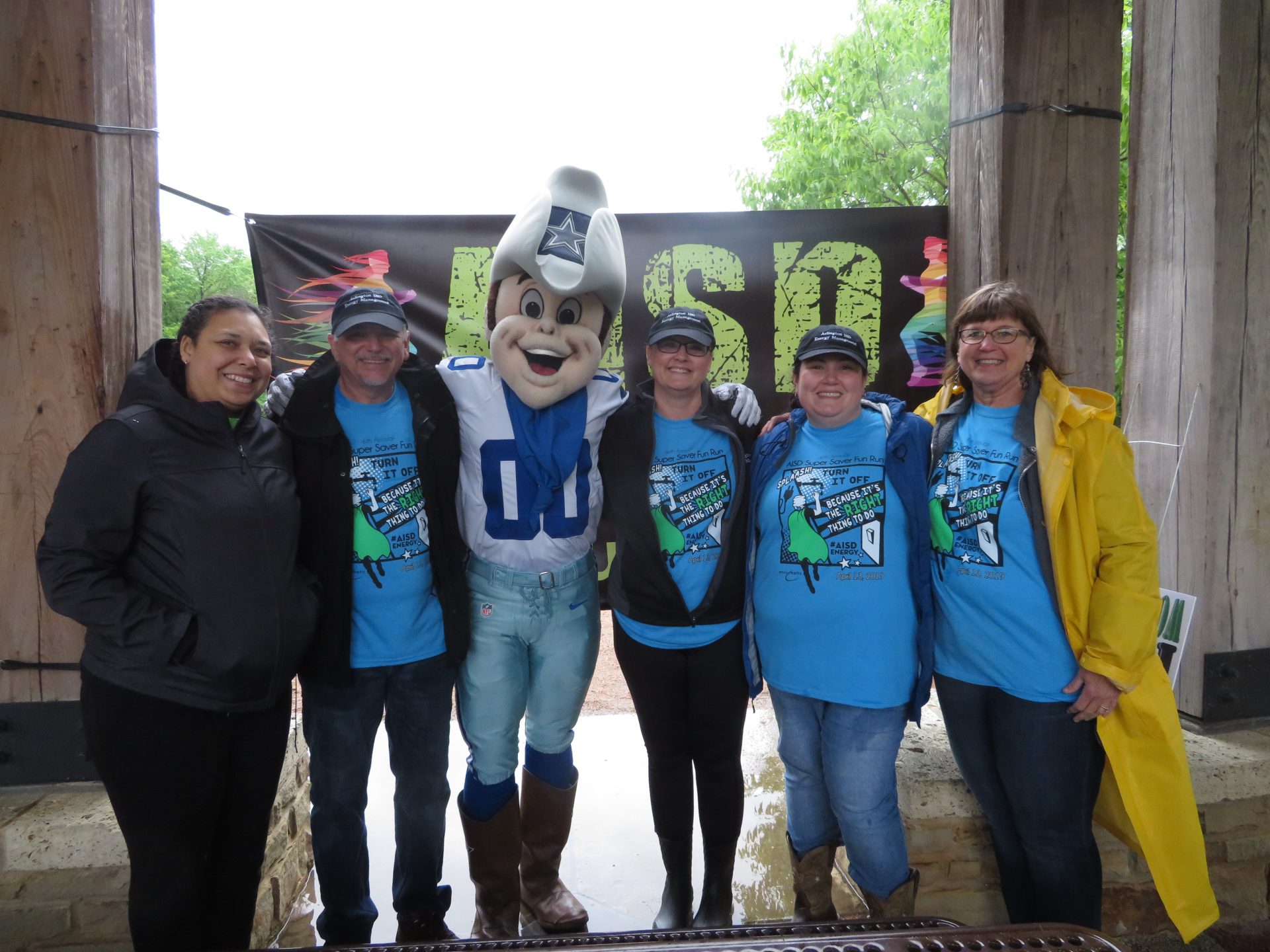 OVERALL MALE
OVERALL FEMALE
LARGEST TEAM
GUILLERMO DUQUE
with a time of 18:37!!
FELICIA MARTIN
with a time of 19:01!!
ADAMS
with an astonishing 108 people!!
Full results are available here! 
See photos from the race!
Energy Activity Fund
We were very happy to announce that with the huge success of our annual Super Saver 5k Fun Run the Steering Committee was able to keep the grants at $150!  These grants go towards funding energy awareness initiatives, such as providing rewards for energy awareness activities at the building level.  Below are the 2018-2019 Energy Fund Recipients! *Guidelines and applications are available on the Energy Committee Page*
Energy Savings Competition - Oct 1st thru April 30th
Great news! Once again our Annual Energy Savings Competition received new life this year! You will still be receiving your "Digital Report Card". They will be emailed to you once a month around the 10th and will be viewable online anytime. Don't forget to track your competition points online...this year we have a participation point champion! Please remember to email any building energy saving activities to energycompetition@aisd.net by April 30th! We will be having 2 holiday competitions this year; Thanksgiving Break and Spring Break. *Please see the "Points System" link on the Energy Competition page for a more detailed explanation.*
2017-2018 Energy Management Awards Ceremony
Last year's Energy Management Awards Ceremony was held May 21st, 2018 at 5:00p.m. at the Professional Development Center. The ceremony is held to honor our Energy Committee Members and their amazing achievements throughout the year. Their participation in this year's competition, was amazing. During our three competitions this year the district saved 2,833,770 kWh's of electricity.  That is a 50% reduction in electrical usage over our normal operation! WOW! Way to go! A major factor in controlling electrical consumption is human behavior and these wonderful people help reinforce, encourage and promote habits that will continue to lower and maintain our current usage helping to continue our savings into the future.
Congratulations to Short ES; last year's overall competition winner!!  Way to go Short!
For PowerPoint version of the slide show click here to download
Contacts
| | | |
| --- | --- | --- |
| Name | Role | Telephone |
| Danny Helm | Energy Manager | (682) 867-7655 |
| Tricia Alford | Energy Specialist | (682) 867-7601 |
| Shauna Alderman | Energy Clerk/Scheduling Inquiries  | (682) 867-7646 |
| Energy Idea | Send us your energy saving ideas | |