ARLINGTON ISD TEACHER JOB FAIR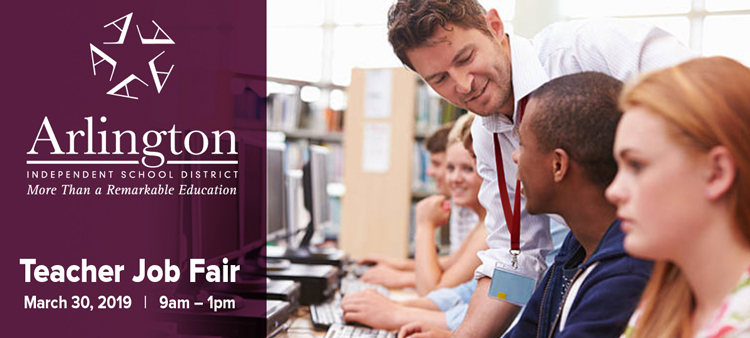 Arlington ISD will have a Teacher Job Fair on March 30, 2019 from 9:00 AM - 1:00 PM at the Career and Technical Center. Pre-registration is suggested, but not required.
COME JOIN US IN THE ARLINGTON ISD!
JOB FAIR & RECRUITING OPPORTUNITIES
Arlington ISD actively recruits at area colleges and universities. Representatives will be present at the locations listed below. You must contact the Career Services Department of the recruiting site to determine participation eligibility for each respective event. AISD hosted events do not require pre-registration.
Texas Speech-Language-Hearing Association (TSHA)
Conference Job Placement Center
Fort Worth, TX
02/28/2019 - 03/02/2019
Target audience is Speech Pathologists.
SWCOLT/TFLA (Foreign Language Teacher's Annual Conference)
Fort Worth, TX
03/29/2019
We will have a table set up in the Exhibitor's Hall.
North Texas Deaf/Hard of Hearing Job Fair
ESC Region 11
Fort Worth, TX
05/07/2019
5:30 PM - 7:30 PM
RECRUITING SITES
Contact the specified university concerning your participation at the listed job fair.
DATE

TIME

EVENT

03/25/2019
9:00 AM - 12:00 PM (NOON)

UTA Teacher Career Fair
Arlington, TX

03/26/2019
8:30 AM - 4:30 PM

TCU Interview Day 2019
Fort Worth, TX

03/27/2019
9:00 AM - 12:00 PM (NOON)

TX Veterans Commission/Goodwill Industries Hiring Event
Fort Worth, TX

03/30/2019
9:00 AM - 1:00 PM

Arlington ISD Teacher Job Fair
Career and Technical Center - Arlington, TX

04/02/2019
10:00 AM - 12:00 PM (NOON)

Angelo State University
San Angelo, TX

04/03/2019
10:00 AM -12:00 PM (NOON)

Tarleton State Teacher Job Fair
Stephenville, TX

04/03/2019
9:00 AM - 11:30 AM

UT Austin Teacher Job Fair Spring 2019
Austin, TX

04/04/2019
10:00 AM - 12:00 PM (NOON)

TRI-U Teacher Job Fair at Abilene Christian University
Abilene, TX

04/05/2019
11:00 AM - 2:00 PM

UNT/TWU Teacher Job Fair
Denton, TX

04/08/2019
9:00 AM - 11:30 AM

Texas A&M Education Career Fair
College Station, TX

04/17/2019
8:30 AM - 2:00 PM

DBU Interview Day
Dallas, TX

07/16/2019
12:00 PM - 3:00 PM

Texas Teacher Job Fair
Hurst, TX