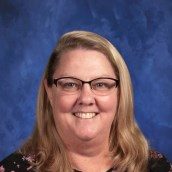 Elizabeth Chamberlain 
9-12 LHS Vocational Adjustment Coordinator
I graduated with a BSED in Education from Western Carolina University in May 1982. I started teaching in North Carolina in August 1982 and found a passion for working with students with learning differences. I became certified to teach secondary Special Education in Texas. In addition I am ESL certified. I started teaching in AISD in 1989. I have served as an AISD job coach for 20 plus years.
My husband and I have three children. They are successful Vikings who chose careers in public service. I am very proud of the people they have become.