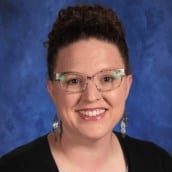 Lindsi Gjetley MS, RD, LD
9-12; Medical Terminology
I am a first year teacher for Medical Terminology under the Health Science department.
I attended Texas Woman's University for both undergraduate and graduate school. My bachelor degree is in Dietetics and Institutional Administration. After graduation, I completed my internship at Virginia Commonwealth University/Medical College of Virginia in Richmond, Virginia. I passed my certification exam to obtain my credentials and licensure to practice as a Registered Dietitian. I worked in outpatient and inpatient roles for various hospitals as a Registered Dietitian and diabetes educator. I completed my Masters degree at Texas Woman's University in Nutrition in 2018. I am currently completing my teaching certification in Health Science through the Region 10 program (completion date: May 2020).