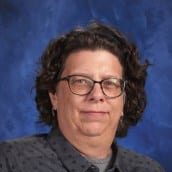 Susan Reeder 
9 – 12, Art Teacher, Lead Art Teacher, Fine Arts Chair
This is my 26th year teaching at Lamar. I teach Art I, Art IV, all levels of Ceramics, and the AP Studio Classes. I am the Fine Arts Chair, I'm a cosponsor for the Senior Class and one of the sponsors for National Art Honor Society.
I graduated from Arlington High in 1976. I learned to work with clay from my teacher and mentor Ron Durham while I was at AHS. That is where I learned to love working with clay. Ron also recommended me for the teaching position that I currently hold. As far as my own art goes, I enjoy making sculptures, but also work at the potter's wheel.
I had my family and then went back to school at UTA and graduated with a BFA in Fine Art in 1993. In 1994 I earned my teaching certificate and started working at Lamar that fall.