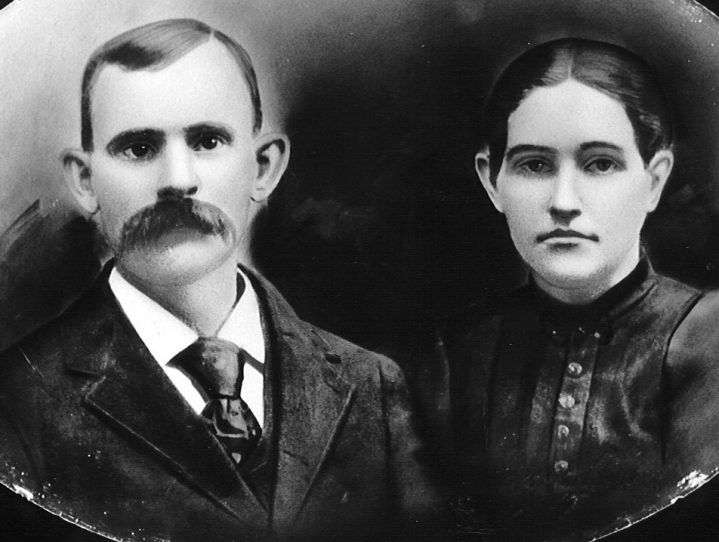 Jason Bryant Little and Rebecca Maculum Little
Birth:
Jul. 7, 1832
Chapel Hill
Marshall County
Tennessee, USA
Death:
Dec. 13, 1911
Kennedale
Tarrant County
Texas, USA

Around 1845, Jason Bryant Little and his wife Rebeckah M. Turner Little migrated by wagon train from East Texas to an area which would one day become known as Tarrant County. The couple staked out a section of land to homestead.Mr. and Mrs. Harvey Hawkins arrived with the same wagon train and sectioned off a piece of land adjoining the Little survey. Jason's wife was the daughter of Mrs. Hawkins. The Little's and the Hawkins are buried In Hawkins Cemetery which is located off Little Road and Interstate 20.

Jason was born July 7, 1832. He died December 13. 1911. Rebeckah was born January 27, 1841 and died August 19. 1919. Rebeckah outlived her husband and all four of her children.

Jason and Rebeckah's children were preschoolers before the Civil War erupted. After enlisting to fight for the Confederate States of America, Jason traveled to Vicksburg, Mississippi, where he survived the 1863 summer siege of Union General Ulysses S. Grant's forces.

Back in Texas, Rebeckah contended with Indians who were frequently seen in the area. At night, she often would barricade herself and her children in their little log cabin. Rebeckah would place a can of oil close to their beds. If the Indians attacked, she planned to set fire to their cabin. Rebeckah preferred to burn herself and her children to death rather than risk being captured by the Indians.

Jason fought with Confederate troops for two years. Alter one skirmish, General Isaac Van Zandt found Jason on the battlefield with a bullet wound to his head. As a result of the injury, Jason developed amnesia. It took him two years to regain his memory.

Rebeckah raised and sold vegetables to make a living while Jason was away. From the herbs she grew Rebeckah prepared medicine, especially catnip for babies.

One day, as the little children played outside, one of them spied a man walking toward their cabin. The youngster ran inside yelling. "Mama! Mama! There's a man coming up the lane!" It was their father returning home horn the battlefront.

Imagine the excitement created by Jason's return. Because the children were so young when he left to join Confederate troops, they did not remember their father.

The names of Jason and Rebeckah's four children were Harriett Elizabeth Ann Lotspeich, Mary "Mollie" R. Ferguson, William M. Little and Jason Bryant Little, Jr.

Jason and Rebeckah Little donated a part of their homestead for a school. The first three Jason B. Little Schools stood at that site.

Bio contributed by Mary Fallwell.

Family links:
Parents:
William Daniel Little (1808 - 1866)
Harriet Brinson Sheffield Little (1809 - 1843)

Spouse:
Rebecca Maculum Turner Little (1841 - 1919)*

Children:
Harriet Elizabeth Ann Little Lotspeich (1856 - 1887)*
William Malone Little (1859 - 1914)*
Jason Bryant Little (1861 - 1909)*

Siblings:
John R. Little (1831 - 1836)*
Nancy Melvina Little Bell (1831 - 1909)*
Jason Bryant Little (1832 - 1911)
James William Little (1834 - ____)*
Midian Elizabeth Little Seaborn Liles (1836 - 1925)*
William Hogan Little (1839 - 1844)*
Lucretia Little (1842 - 1842)*
John L. Little (1842 - 1842)*
Pleasant Rufus Little (1843 - 1844)*
Melinda Jane Little Friddell (1848 - 1928)**
Samuel H. Little (1850 - 1867)**
Milus Andrew Little (1853 - 1943)**
Thomas Mansfield Little (1859 - 1941)**

*Calculated relationship
**Half-sibling

Burial:
Hawkins Cemetery
Arlington
Tarrant County
Texas, USA
Created by: tyFlowers
Record added: Jun 04, 2011
Find A Grave Memorial# 70857744
source: https://www.findagrave.com/cgi-bin/fg.cgi?page=gr&GRid=70857744
School Founder's History Dated to Civil War Days
November 9, 1968
Source Unknown
One of Arlington's oldest schools, Jason Bryant Little Elementary organized in 1888 is particularly today remembered by a great-grandson, Howard Ferguson.
Mr. and Mrs. Ferguson will a
ttend open house today for the new school structure that replaces a school, which had land, donated by Jason Little on July 10, 1888.
Little was born in 1832 and at age 17 took advantage of the new homestead act making land available in the new region of Texas. He took a section of land next to a good friend named Hawkins.
He married a 13-year old step-daughter of Hawkins at age 21. Four children were born to them before Little decided to fight in the War Between the States.
He left in 1962 and fought two
years. During the war Little was shot in the head leaving him with a metal plate and a loss of memory.
For two years he traveled around until he remembered his family.
His children were playing outside their log cabin when they saw a man walk up to their place. One of the children ran to get their mother.
She came outside armed with a fun. As the man came closer, she threw it down and ran to meet her husband, which she presumed dead when not returning from the war.
Soon afterwards Little, began running a wagon hitch between Johnson Station, Fort Worth and Shreveport.
Ferguson said he saw his great-grandfather three times, but he doesn't remember much about him. He died in 1911 and is buried in the Hawkins Cemetery.
Ferguson moved his home in 1946 when the place was almost torn down. They lived in his old house for a time and then moved to another home.
In 1960, they constructed a morn modern home on the homestead which has plenty of land for Ferguson to raise AKC registered Collie Dogs on Kennedale-Little School Road.