COVID-19 DASHBOARD
Please see below for information and notices related to COVID-19.
DAILY WELLNESS SURVEY
A wellness survey is to be completed by every parent and student daily.
INSTRUCTIONAL CHANGE REQUEST
Use the form below to request a change for a student to move from face-to-face to virtual learning or vice-versa.
Bond 2019 Campus Project
 Please see below for details and status updates related to the Bond 2019 project at Martin High School.
Edwina Thompson All AVID students 682-777-2974- google voice Jarita Galbreath Ors-Roh 682-207-8279- google voice David Pyatt A-Brov  office #  7-8624 Jai Davis Toc-Z office #: 7-8623 Susan Kingen Roi-Tob office #: 7-8628 Karen Peters Maru-Orr office #: 7-8627 Marcie Thomas Joho-Mart Jabber 7-8626 Sara Stringer A-L STEM Academy office #:…
Read More
English I – April 20 test (A Day) English II – April 22 test (A Day) Algebra I – May 4 (A Day) US History– May 5 (B Day) Biology – May 6 test (A Day)
Read More
Join us for an online parent workshop where we will discuss self-esteem in children. Building Self-Esteem, in English, takes place on Tuesday, March 23rd at 9 a.m. This event will be led by experts from our Parent and Community Engagement team. Learn more and register today! https://fb.me/e/goxa2f1YV
Read More
Six Weeks 6 Bell Schedule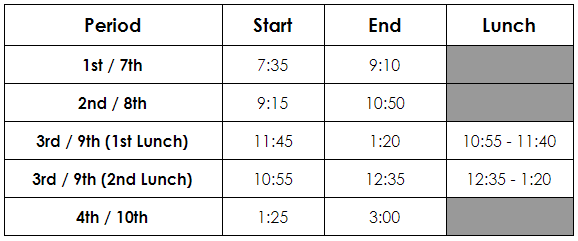 Open lunch for 11th-12th grade. Freshmen and Sophomores must remain on campus during lunch.