Maude V. Roark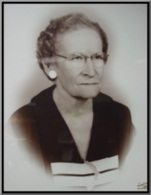 Maude V. Roark Elementary was named in honor of a teacher who taught in Arlington for over 30 years. Miss Roark taught Mathematics at Arlington High School. "She was so dedicated to her responsibility and determined that no student would leave her class without a thorough understanding of the subject, that she spent many hours over and above school time working with those students who were slow in learning or having trouble grasping the essentials. She was loved by the pupils and parents of the community. As proof, the City of Arlington, Texas, called one of their new school buildings the Maude V. Roark School." The previous statement was made by Charles Arthur Roark in the book, 'The Roark Legacy' by Patricia Roark, Nancy Lee Deborah Arnold and Sally Cowan.
The Roark Elementary Building was originally built in 1961 with additions made in 1993.
Roark employees always say that Roark seems like a family. Like Miss Roark, our entire faculty and staff are known to take extra steps with Roark students to help them do their personal best and to get the best education possible.
Roark celebrated its 50th anniversary the 2011-2012 school year.