Add a header to begin generating the table of contents
AISD Summer Programs
AISD offers multiple summer program opportunities for K-12 students. With the physical closure of schools extending into the summer, summer programs will be online.
For program dates, please visit 2020 Extended Year and Summer School Program Dates.
Extended Summer Learning Opportunities
In addition to AISD programs offered this summer, families and students who wish to continue their learning during the break can access free extension activities from TEA's Texas Home Learning website.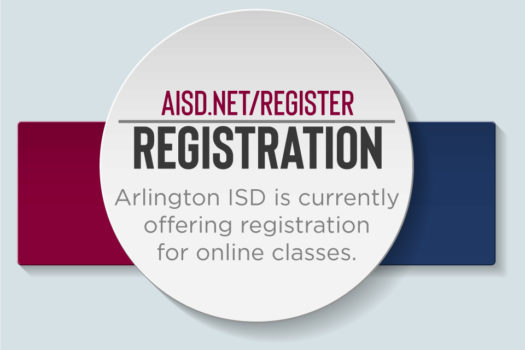 In a letter to parents and guardians today, Superintendent Dr. Marcelo Cavazos shared what the Arlington ISD knows so far about how students and teachers will return to class this fall. Here is his letter:
Dear Parents and Guardians,
Last week I promised you an update regarding our Return to School plan based on guidance expected from the Texas Education Agency (TEA) on Tuesday. Unfortunately, the TEA wasn't ready to release the guidance but I still want to share what we do know right now about this fall.
Read More

→
STAY INFORMED WITH AISD NEWS & EVENTS
At-Home Learning Resources
Special Education & Dyslexia
Parent Resources
Special Education, Dyslexia, & Section 504
Given the impact of COVID-19, there have many changes associated with academic assessments.  The information provided here will give you an overview of the changes and links to information about the changes.  Please visit the websites provided for the most up-to-date information.
STATE TESTING
Guidance related to the state assessment program is updated every few days and is provided under the Assessment section on the Texas Education Agency (TEA) Coronavirus (COVID-19) Support and Guidance webpage.
Annual state assessment requirements have been suspended for the remainder of the school year.  This means that all STAAR assessments scheduled for April, May, and June 2020 are canceled, including STAAR grades 3-8 tests, STAAR End-of-Course (EOC) Assessments, and STAAR Alternate 2 tests.
For high school seniors who are still working to meet assessment graduation requirements in the 2019-2020 school year, required performance on the EOC assessments is being waived for spring 2020.  This means that current seniors may graduate through an Individual Graduation Committee (IGC) process this year regardless of the number of EOC assessments they still need to pass.  The campus will determine if a student has met all other graduation requirements, including successfully completing curriculum requirements or successfully completing an individualized education program.  A chart that shows different end-of-course exam situations can be found in the COVID-19 FAQ: Assessment document on the Coronavirus (COVID-19) Support and Guidance webpage.
STAAR EOC Assessment Guidance (Updated by TEA 3/31/20)
AP Testing
College Board will conduct AP Testing this spring. Traditional face-to-face exam administrations will not take place.  The College Board is investing in a secure at home testing option. For Spring 2020 only, students can take a 45-minute online exam at home on any device they have access to—computer, tablet, or smartphone. Taking a photo of handwritten work will also be an option. AP exams will only include topics and skills most AP teachers and students have already covered in class by early March. Exam content and guidelines can be found at the College Board's website, Updates for AP Students Affected by Coronavirus (COVID-19).
Updates for AP Testing—How to Successfully Tackle the AP Exam
In an effort to support students as they prepare for and take a virtual AP exam, the College Board has made several resources available.  The links provide information about how to prepare for testing.  Additionally, there is an AP Exam guide with important instructions.  Finally, we have posted specific content documents that students may use during the exam, like formula carts.
World Languages Special Instructions
Music Theory Special Instructions
AP Test Demo (NO Content.  Only Logistical
IB TESTING
The May 2020 International Baccalaureate (IB) examinations as scheduled between April 30 and May 22 for Diploma Programme candidates will no longer be held. Depending on what they registered for, the student will be awarded a Diploma or a Course Certificate which reflects their standard of work. This is based on student's coursework and the established assessment expertise, rigor and quality control already built into the programmes. Exam updates can be found on IBO's website, COVID-19 (coronavirus) updates.
Student Device Help Desk
If I'm having trouble with the device(s) issued by Arlington ISD, who can I contact?
The district has a Student Device Help Desk to assist with any issues related to devices distributed by the Arlington ISD.
You can submit a ticket with the Help Desk and a member of our technology team will contact you.
Canvas & SEESAW
On each grade level page, there are steps to walk you through accessing each resource. Help documentation and walkthrough videos are also located there. Choose a grade level above to access those resources.
Once you are enrolled in the Seesaw or Canvas course, each course has a help page with links to ask questions about that course. Look for the HELP button at the bottom of each course page.
If Canvas or Seesaw isn't loading correctly, you can also check the uptime status of each of these resources below: