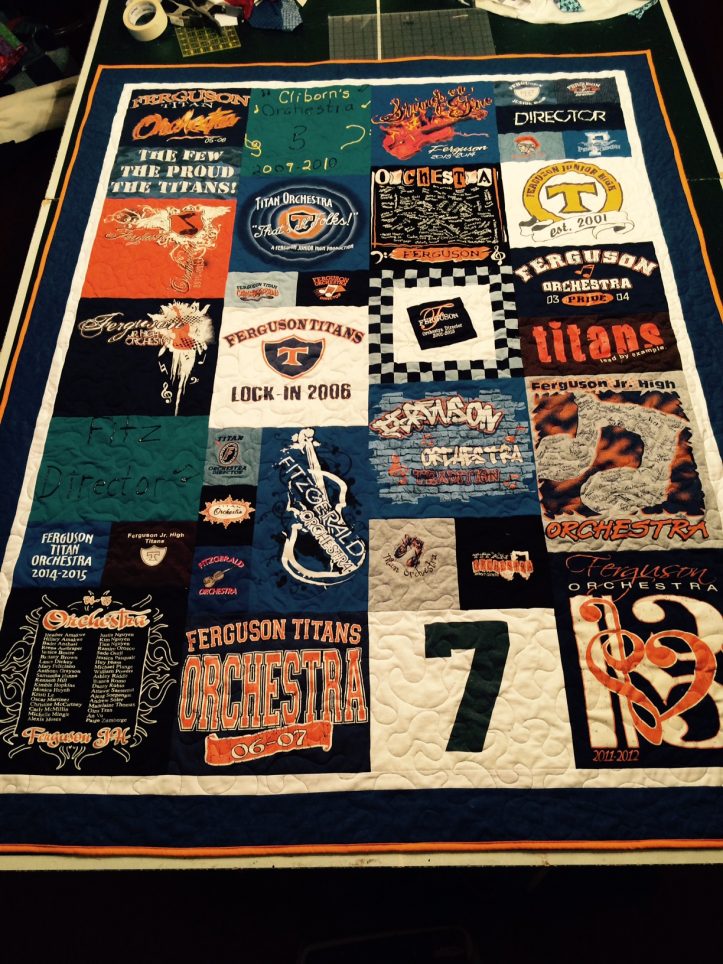 May 18, 2015 - Tricia Alford, an AISD employee and parent of AISD students, has a special gift for Ferguson Junior High Orchestra teacher Mary Cliborn. She made a quilt out of all the Ferguson Orchestra T-shirts from throughout the school's 15-year history and will present it to Cliborn at Ferguson Orchestra's grand finale, May 26, at 7 p.m. at Bowie High School auditorium.
This special concert is the last before Ferguson Junior High closes its doors and consolidates with Ousley Junior High. Cliborn, who has been at Ferguson since it opened in 2001, built the orchestra into a successful, celebrated program, loved by hundreds of students.
"She's so encouraging with the kids," Alford said. "She motivates them and is just a positive influence…in more than just music."
Two of Alford's children were students of Cliborn's at Fitzgerald Elementary and then her son was in the Ferguson Orchestra as a seventh grader. They all love Mrs. Cliborn, she said.
Alford knew she wanted to give a gift to Cliborn at the end of the year. When she saw the Ferguson Orchestra T-shirts in the orchestra room, she knew what that gift would be. "I'm a quilter," she said. "I've made over 100 quilts in the past 25 years. I make all different kinds but my favorites are the ones tied to memories – like T-shirt quilts (there is one of mine hanging in the main office at Bowie High School)… I just thought that [the Ferguson T-shirt quilt] would be something special for her to have."
The quilt includes 25 to 30 T-shirts and is 54 inches by 70 inches. It took a couple weeks to make, Alford said, with some help from her daughter. "She just loves Mrs. Cliborn," Alford said of her daughter. "She'll want to go on the stage and present it to her."
Alford isn't sure yet who will present the quilt at the concert. She just knows she doesn't want to do it alone. It's going to be too emotional. "I'm just going to sit there and cry the whole time," she said about the concert.
Cliborn has not seen the quilt yet, but knows it's coming. She is thrilled the T-shirts – and the memories they represent – will be preserved.
Memories will be a major theme at the orchestra's final concert. Forty former members of the orchestra, including Alford's son, are coming back to join the current students in the performance of the last two pieces. The final piece, "Titans Last Stand," was composed by Ferguson alumnus Victor Musasia to honor Ferguson's legacy.
Everyone is invited to attend the concert and celebrate the proud history of Ferguson Junior High.