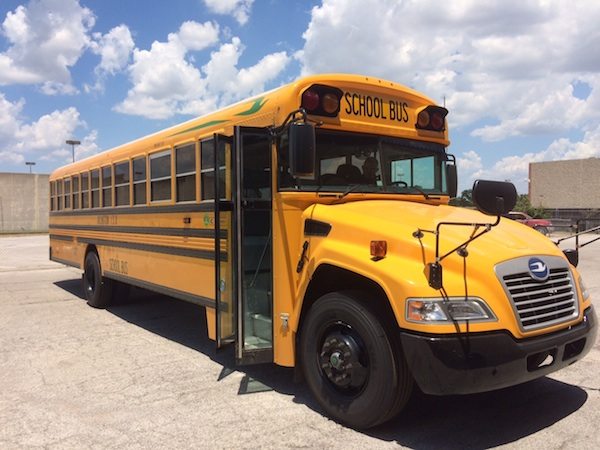 Eleven new school buses have arrived in the AISD in the last few weeks, paid for by the 2014 Bond package. Nine are full size, with a capacity for 71 students, and two are small, for special education, and include lifts. All are manufactured by Blue Bird.
The new buses – part of 36 currently ordered with bond funds – will help replace aging buses and add to the AISD fleet. Due to expanding programs within the district, more buses are needed to accommodate additional routes. The AISD transportation department had 223 buses last year and will begin the 2015-2016 school year with 242 buses.
"The replacement of buses is huge for us," said Richard Longgrear, AISD transportation manager of fleet services. He explained that just six years ago the district had many buses well over 20 years old. The bond in 2009 helped start the replacement of some of those buses and the current 2014 bond package has continued it.
Longgrear pointed out that the new buses offer many improvements, including better safety features. In addition, he said, "every bus we order now has A/C," practically a must in Texas. The district still has several without A/C, but those are all now substitute buses, not used for daily routes.
With its improving bus fleet, the AISD transportation department now intends to operate on a 15-year cycle for buses. Based on a combination of age and mileage, buses will be cycled out and replaced as they reach about 15 years old.