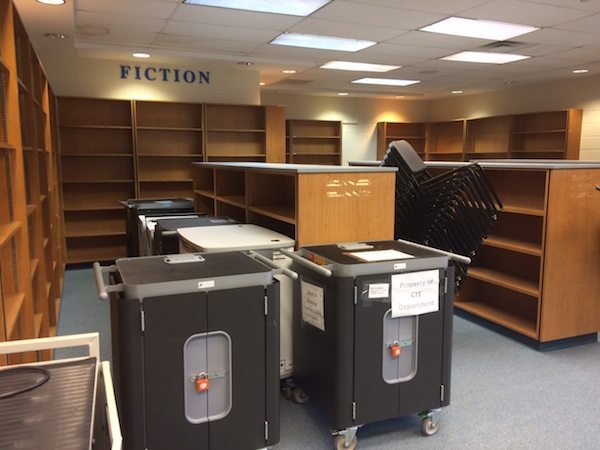 As two AISD junior high schools consolidate with others, and two alternative high schools relocate, it's not just the teachers and students who have to move. The libraries need to move too.
That's not an easy task, especially for a library like Hutcheson Junior High's, which has 14,000 volumes. It's not as simple as just packing books into boxes and moving them. Months of preparation have gone into the transition. Julie Moore, AISD library media services coordinator, is very strategic about library planning. "Libraries are changing," she explained. "Library programs now must ensure that students have access to both print and digital materials and experiences that support curriculum and real-world application."
With district changes and improvements related to the 2014 Bond package, Hutcheson Junior High closed in June and is consolidating next school year with Workman Junior High. Ferguson Junior High also closed and is consolidating with Ousley Junior High. (Read more about Hutcheson and Ferguson closing.) At the high school level, Venture High School and Newcomer Center are moving to the building formerly occupied by Ferguson Junior High (now named Ferguson Education Center). They will remain separate schools, but share some common resources – like the library.
At Ferguson, since the junior high is consolidating with another school that already has a strong library, most of the collection will remain in the building to serve the new residents, Venture and Newcomer. Dusti Parker, Ferguson Junior High's librarian, was familiar with which library resources the junior high teachers used for curriculum, so she sent those on to Ousley with the teachers. But she will stay and become the librarian for Venture and Newcomer. Now she is incorporating materials from the two alternative schools into the Ferguson collection that remains. "It's going to evolve into a totally new library," Moore said.
Parker is excited about the instructional opportunities afforded by the new, consolidated library. "I have been working with Julie at library services and with the librarians from Newcomer and Venture Schools," she wrote. "I want to make sure the library and its contents, both digital and print, will fit the needs of both schools. I will be creating a webpage and a Twitter account for the new library … It is my goal for the library to have a welcoming atmosphere rich in technology that supports the needs of the school community."
Unlike the Ferguson building, which will remain a school, Hutcheson Junior High will be torn down this summer. So everything has to go – and not just books. "We needed to consider what technology was no longer viable as well as what furniture was going to Workman," explained Heidi Fisher, the Hutcheson librarian who will become Workman's librarian next year. "Many conversations happened with the CTM, library services, teachers and the principal of the consolidated school, Inelda Acosta, to think through what was needed at Workman to make the transition smooth and provide the students with a quality library program both this year and next year."
Moving the Hutcheson library has been a huge undertaking and started at the beginning of the school year. Though Hutcheson's building was old, the library was in great shape. Thanks to Title I funds and principals who placed a strong emphasis on the library, it had a large collection. However, since it is consolidating with Workman's library, not everything is needed at the new location.
Fisher weeded the Hutcheson collection of old, out-of date materials, but still had multiple copies of some resources. So they had a "shopping day," as Moore described it, for the librarians from other AISD junior highs to come in and pull materials for their collections. Forty boxes of Hutcheson books are now on their way to the other junior highs.
The shelves at Hutcheson are now empty. And so begins the job of consolidating what came off those shelves with the Workman library. Fisher is grateful for all the help she received to close and move Hutcheson's library, "including the student library assistants at both schools, library services, custodial team members and warehouse team members with the physical movement of the materials."
She is also excited about the opportunities she and the students will have in the new consolidated library at Workman. "I am looking forward to promoting literacy and encouraging students to read through lessons with their classes and book clubs. I also look forward to developing some maker space opportunities where students get creative and develop themselves through STEM activities as well as teaching information literacy skills and doing research in the library."