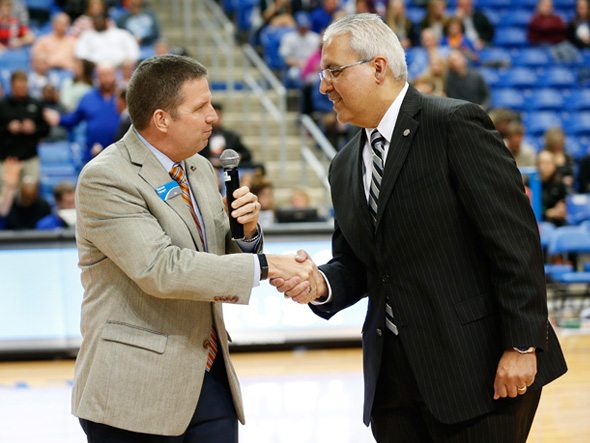 The Arlington ISD has formed a partnership with Texas Trust Credit Union to build an outdoor performance area at the Jones Academy of Fine Arts and Dual Language. The partnership was announced during the UT-Arlington men's basketball game Thursday night.
The AISD opened two fine arts and dual language academies this school year with kindergarten students. The academies are the first to combine fine arts and language. In the academies, elementary students have the opportunity to learn Spanish, Mandarin, visual arts, music (choral, strings and piano), dance and theater. Both fine arts instruction and second language acquisition help students increase cognitive abilities, improve thinking and verbal skills, enhance motor skills and problem-solving ability, and improve SAT scores.
"We are pleased to partner with Texas Trust for this outdoor performance area," AISD Superintendent Dr. Marcelo Cavazos said (pictured, right). "This outdoor facility at Jones Academy will increase fine arts opportunities for students and families."
The outdoor performance area, the first of its kind in the AISD, will be funded by Texas Trust. It will provide additional performance opportunities for students attending the fine arts and dual language program and include the possibility for amplified sound.
"Partnering with the district to provide these unique performance opportunities for students will equip them with the knowledge and skills needed to build brighter futures," said Jim Minge (pictured, left), president and CEO of Texas Trust.
Read more about the academies and the renovations each school is receiving, paid for by the 2014 Bond package.