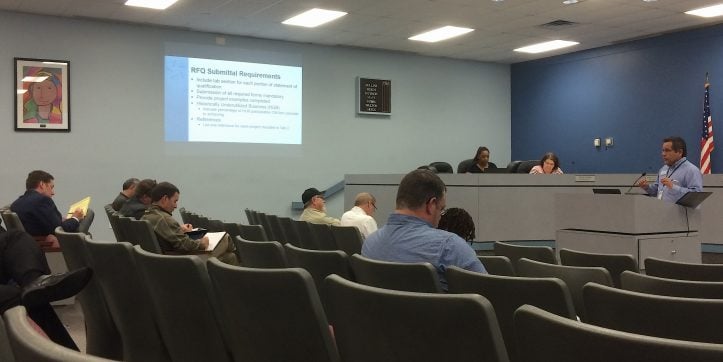 Feb. 12, 2016 – The Arlington ISD hosted a pre-proposal conference yesterday to go over a Request For Qualifications for construction managers at risk for Phase III bond projects and Sam Houston High School.
The district will engage several qualified firms to provide construction manager-at-risk services for these projects, in accordance with the terms, conditions, and requirements set forth in the Request for Qualifications.
Javier Fernandez, AISD director of facilities planning and construction plant services, led the meeting and went over how the AISD's 2014 Bond package was developed and the projects that are in it. He also covered the RFQ requirements and the process of selection.
The AISD will use the "two step process" for this procurement. In "step one," the AISD will evaluate each submission based solely on qualifications. After completion of that process, the AISD may request that five or fewer offerors for each project provide additional information, including construction manager-at-risk fee and its price for fulfilling the general conditions.
Proposals are due Feb. 24, 2016, by 2. p.m.
The deadline for questions is Feb. 15, 2016. Questions may be submitted to Tammy Craig, AISD director of purchasing.