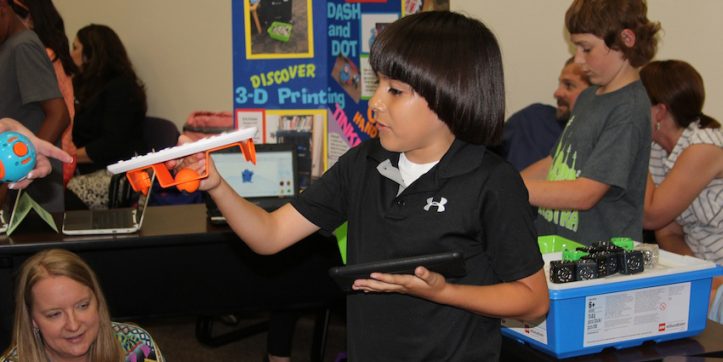 May 23, 2016 - The 2016 TI Grant Showcase on Monday evening gave AISD teachers and students the opportunity to demonstrate how they are using technology to explore and learn. Students, parents and teachers packed the AISD professional development center for the event and engaged in hands-on demonstrations of education through technology in action.
[
See photos of the event
.]
The Transformation Through Innovation grant is funded by the 2014 Bond package and includes $1 million in each of the bond's five implementation years to be awarded to AISD teachers and schools who develop innovative learning environments for their students through technology. The grant money's purpose is to facilitate innovative teaching methods that will truly transform the classroom and learning environment. It's about using technology to teach in new, more effective ways.
[
Read more about the grant
.]
To date, nearly $3 million have been awarded in 74 grants to AISD campuses.
[Read how several grants have been implemented:
Moore Elementary
,
Shackelford Junior High
,
Martin High School
.]