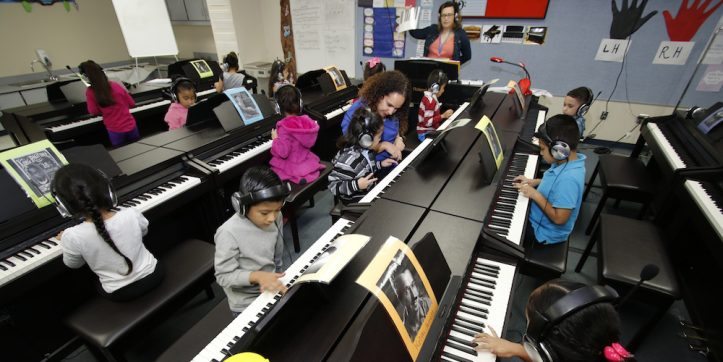 Nearing the end of their inaugural school year, Corey and Jones Academies of Fine Arts and Dual Language are charting new territory. The schools are pioneering a unique educational model developed by the Arlington ISD, offering kindergarteners an educational experience like none other.
"We didn't want to create something that would be like everyone else's," said Dr. Steven Wurtz, AISD chief academic officer. Wurtz and AISD administrators envisioned something new for the district – a school that would teach fluency in two languages while integrating a wide and abundant array of fine arts.
"If we're going to create a program, we're not just going to change the name of a building," AISD Superintendent Dr. Marcelo Cavazos said. "We're going to invest the resources it takes to do it right."
The academies, Jones in north Arlington and Corey in south Arlington, opened in August 2015 and provide students an innovative program that develops fluency in both English and Spanish and will offer exposure to Mandarin. Students also receive in-depth instruction in fine arts, including general music, visual art, dance, drama and piano in grades kindergarten through fourth. Then in fifth and sixth grades students will get to choose art specialties.
This year the academies started with just kindergarten, but will add a grade in each of the next six years. Both academies were placed in existing AISD elementary school buildings, which will be renovated using 2014 Bond funds to ensure the facilities enhance the fine arts and dual language programming.
The original idea for the academies was sparked as the 2014 Bond package was being developed. It came out of feedback from parents, the district's facility capacity at the time and an already strong commitment to foreign language and fine arts. Plus research showed that students who develop fluency in a second language early on and students who participate in fine arts outperform their peers. The idea also flowed from a culture in the district that promotes innovation and seeks the best for its students.
"We want to create the most robust opportunities for our students," Wurtz said.
Wurtz and a committee of AISD administrators ran with the idea and began to develop the concept. Several of the committee members visited bilingual schools and fine arts academies in Utah, New Mexico, North Carolina and South Carolina. The schools they visited were doing great things and offered many positive takeaways. But all of the schools were doing just one or the other – foreign language or fine arts – but not both. None modeled exactly what the AISD had in mind.
In seeing schools that didn't quite match their burgeoning concept, a vision for something different emerged. The AISD realized it didn't just want a school that focused on one or the other – language or fine arts. It wanted a school that incorporated both.
It didn't want a traditional elementary school that just tacked on a few extra fine arts or language classes. It wanted a school that holistically integrated both disciplines into a unique educational program.
And it didn't want a school that was housed in a traditional elementary school building. It wanted a school with a building purposely designed to enhance the unique language and arts programming.
That type of school didn't exist anywhere. So the newly-initiated fine arts/dual language (FA/DL) committee of AISD administrators set out to create it.
NOT JUST ONE OR THE OTHER
Schools that teach fluency in multiple languages and schools that offer robust fine arts programs typically produce highly-successful students. Individually each discipline is powerful. But the impact of the two combined could be extraordinary, the FA/DL committee believed.
The benefits of developing dual-language fluency in elementary students are clear. For one, bilingual students ultimately do better academically. Research is proving that kids who learn in two languages outperform their monolingual peers by third grade, said Dr. Matt Varnell, the principal of Corey Academy. Their brains have learned to connect information in ways that others aren't.
And in Texas, bilingual fluency in English and Spanish will open many career doors. With the fluency in English and Spanish that Arlington academy students will develop, along with an in-depth exposure to Mandarin, the students will know three of the most important and widely-spoken languages in the world and be "able to make connections across the globe," said Cassandra Perez, AISD director of world languages.
Perez serves on the FA/DL committee and leads the language piece. The language program that her department and the FA/DL committee set out to create made complete fluency in English and Spanish one of the primary goals. Already a strong proponent of teaching multiple languages, Perez visited outstanding, high-performing foreign language schools in Utah and other states to help plan for the district's new academies. She and her team took what they learned from those schools and considered how they could improve on them.
Perez called what they developed a two-way immersion model. Students don't just attend regular Spanish classes. Instead they receive core content in each language. So Jones and Corey students spend half the day in an English language classroom with an English-speaking teacher who teaches language arts and social studies. The other half of the day is spent in a second classroom – a Spanish classroom – where they learn math and science in Spanish from a teacher who only speaks to them in Spanish. The teachers in each classroom stick strictly to their target language – English or Spanish. Even the visuals in the room – like posters or books – are in the target language.
Varnell likes to tell the story of one little boy who told his mother after the second week of school that things were going well.
"I have a problem though, Mom," he said. "I'm going to have to teach my teacher English."
His Spanish-speaking math and science teacher, who of course speaks English, has strictly held to the model as intended. In her classroom, it's all Spanish all the time and the students don't even realize she knows English.
"The students are learning the language through the content," Jones Academy Principal Katiuska Herrador said. The content doesn't change – students receive all the same academic content that other Texas students get. It's the language of delivery that changes.
"Immersion is really more strategic and focused," Perez said. Speaking, writing and thinking in both languages "is going to be second nature for them."
Perez anticipates the Corey and Jones students – both native-English and native-Spanish speakers – will be able to pass the Advanced Placement Spanish test by sixth grade. That means by the time they get to high school, they will be able to focus on a third language, whether it's improving the Mandarin they learned in second through sixth grade at the academies, or something else.
"That's just exciting to me," Perez said.
Linh Nguyen, AISD visual arts K-12 curriculum coordinator, is just as excited about the fine arts component at the academies. Nguyen, who also serves on the FA/DL committee, pointed out that all children love to paint, draw, sing and dance when they are young. It's innate – part of human nature. The academies have the opportunity to offer the kind of arts exposure at a young age that will build on those instinctive interests and inspire students to continue to build and nurture those interests throughout their lives.
Art can become a visual language for students, offering a rich educational experience that generates wide-scale benefits. Dr. Jeremy Earnhart, AISD's director of fine arts, wrote in a journal article, "Research consistently indicates that a methodical approach to music and arts education enhances learning through strengthening cognitive development ("Articulating the why, mission and data for effective music education advocacy"). Studying and participating in the arts promotes well-balanced students and helps social and emotional growth, said Nguyen. "Our job is to provide students the skill sets to function in the real world using creativity and imagination."
The challenge for the fine arts department and the FA/DL committee, Nguyen said, was to develop and "provide innovative programs for kids that preserve academic rigor while providing intense fine arts experience and proficiency in two languages."
The program they developed for the academies includes "all arts for all." Every student takes all four TEA (Texas Educational Agency) art disciplines – visual art, music, dance and theater – plus piano. Piano is foundational and taken every other day as it develops cognitive abilities, hand-eye coordination and the base for future music studies. In kindergarten through fourth grade, all students will take all five disciplines. Then in fifth and sixth grade, the students get to specialize. The academies are also partnering with local museums and art organizations for field trips and special activities.
"We're going to provide students real-world experiences to enhance their learning … to experience life outside of Arlington," Nguyen said.
Dual language and fine arts are each powerful. But combined, the impact will be magnified.
"The integration of skills is more powerful than both of them in isolation," Varnell said.
Nguyen added, "They go hand in hand," a natural marriage.
Together they will improve student development on multiple levels, enhance academic performance and open doors for their future. They will also help develop a deeper understanding of culture, history and the world in general.
"We really wanted multiculturalism to be present," said Perez.
By fusing the art with language, they will accomplish just that.
NOT JUST ADDITIONAL CLASSES
"This is not going to be an elementary school with added classes," said Dr. Lacy Carter, AISD coordinator for early childhood and elementary education operations and a member of the FA/DL committee. The concept is quite different.
Varnell explained that too often in academics, skills are isolated and taught separately. But real learning happens through experience and often in a group. And deep understanding comes when various skills and subjects are brought together. When you can teach a concept through multiple methods – like visual experience, multiple languages, motion, song and sensory experience – then deeper learning and understanding occurs. In real life nothing happens in isolation. Teaching students to understand how things relate and how to think and analyze on multiple levels is what will prepare them to succeed once they leave the classroom.
The key is integration.
"It is integration that is the difference between good and great," Varnell said. "In other words, this thinking will not be 'what we do,' it will be 'who we are.'"
The integration of a second language means that language should permeate other content areas. The integration of fine arts means the arts should permeate other content areas.
"They must not simply stop at the doors of those classrooms," Varnell said.
"Fine arts is almost like a vessel to the curriculum," Carter said as an example.
The core content is still there, but there is greater unity in how it is taught. Varnell and Herrador can offer many examples of how this works. In one, students may be tasked to explain their math vocabulary by creating a Latin-style song that describes the similarities and differences between shapes. In another, students may study world culture through the paintings of Diego Rivera. What can you infer from the art, the teacher would ask, and what does it tell us about the culture of the people? When you paint a picture this week, what message do you want people to get from it 50 years from now? How will you use art to communicate that message?
True, successful integration hinges on well-written, intentional curriculum. So AISD's language and fine arts departments have been busy developing the curriculum and then supporting the academies' teachers as they implement it. The ability to integrate requires new thinking and a new mindset. It's not necessarily how teachers have been taught to teach. And as Wurtz pointed out, there are no textbooks out there yet designed for a program like this. So to help teachers, the AISD provided additional professional development, including a two-day dual language learning institute and ongoing training. And AISD curriculum and instructional specialists continue to offer support, direction and professional development to teachers as they make this concept a reality. Integration is the power that will drive these academies, Varnell said.
"That can only be accomplished with true curriculum writing," Carter said.
NOT JUST ANY BUILDING
When visiting other schools, AISD administrators saw some great programs, but many were stuck in previously existing, traditional elementary school buildings. The AISD envisioned something different: facilities that actually match the school's programming.
"We didn't want to develop this innovative program and then just stick it in a standard building," Wurtz explained.
Using funds from the 2014 Bond program, both academies' buildings will be renovated to enhance the educational experience for its students.
To plan the renovations, the AISD first developed educational specifications – a pre-architectural process that ensures a school's educational program drives spatial priorities. In other words, the specifications outline what the educational program will need in a building to help ensure the building is designed according to those needs. The process included staff interviews, two planning labs comprised of AISD teachers, administrators, parents and students, and two community meetings to consider, analyze and plan the facility needs for the academies. The educational specifications then went to the architects to help them plan the design. [Read more about the educational specifications.]
The plans call for a major overhaul at each campus.
"The inside of the building will be completely transformed," Wurtz told prospective parents at an informational meeting.
The renovations will provide state-of-the-art fine arts spaces like strings rooms, piano practice rooms, drama space and dance studios. And adjustments will be made to ensure there are enough classrooms so that each class – or cohort – can spend half the day in an English classroom and half the day in a Spanish classroom.
The buildings will also include STEM labs, remodeled libraries and extended collaborative learning areas. Both will receive updated entrances, and the campuses will aesthetically reflect their arts and language identity. Jones will also receive an outdoor performance area, the first of its kind in the AISD, funded by Texas Trust Credit Union.
"We're eager to get it started," Herrador said.
Corey's renovations began in December and is being done in phases, intended to limit any disturbances to the school. Over the summer, the pace of work will pick up, with everything completed in time for school to start in August 2016. The work at Jones will begin this summer and wrap up in time for the start of the 2017-2018 school year. Like Corey, the construction will be completed in phases. The outdoor performance area, however, will be built sooner, scheduled for completion in the fall 2016.
IMPLEMENTATION
Once the FA/DL committee had fully developed the concept for the academies, the hard work of implementation began.
One of the most critical elements of implementation was hiring the right principals. Varnell for Corey and Herrador for Jones have proven to be a perfect combination. Varnell, with an arts background, and Herrador, with a dual-language background, immediately grasped and embraced the vision and began furthering its development and implementation. They also shouldered the responsibility for hiring teachers.
"My main focus was hiring the right people," Herrador said. She and Varnell have clearly succeeded. "We have an excellent team of teachers here, and I consider them experts in their areas," Herrador said.
The FA/DL committee also hammered out all the nuts and bolts. With a commitment to include 240 minutes of fine arts in each instructional day while keeping the core curriculum in tact, the committee, along with the fine arts and world languages departments, developed the schedule and curriculum for kindergarten. They developed a new report card and parent manual and figured out all the logistics and the countless details that go into starting a new school.
After much hard work, the academies' first kindergarten classes started school in August. Though it's a new school with newly-developed programming, to the students, it's just school. They don't have anything else to compare it to. Going to math and science in Spanish or taking dance and piano lessons is all they know.
"They just go. They just run with it," Varnell said.
And they are already excelling.
That's because the academies are offering the kids an environment designed to help them excel.
"I think the students already feel like they're part of something special," Herrador said.
The Jones Academy Twitter feed is often a flurry of activity with all the exciting things going on at the school. And the Corey blog updates parents and helps communicate the school's vision.
It's a vision that is still just beginning. Kindergarten is up and running, but now the curriculum and program development is underway for next year – for first grade – and beyond. Though there is still much to be done, it has been exciting for the FA/DL committee to see the academies become a reality after all the planning and hard work. But what is most exciting is the powerful education Arlington students are now receiving.
"The sky is the limit with these kids," Perez said.
Learn more about the FA/DL academies:
Fact Sheet
CBS DFW: Fine arts and dual language classes for Arlington kindergarteners
Star-Telegram: Arlington's dual language/fine arts academies are a hit so far
Corey Academy construction photos