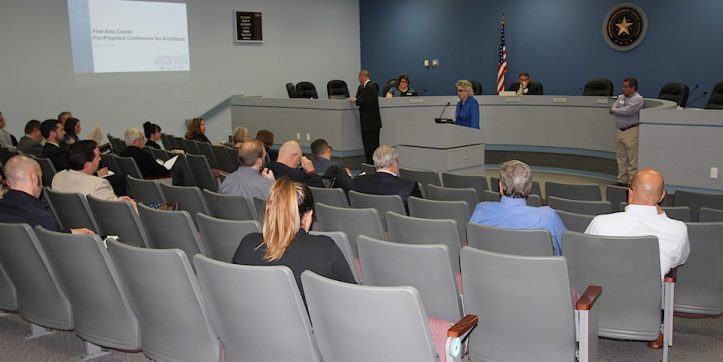 April 1, 2016 - The Arlington ISD hosted a pre-proposal meeting this week for architectural services for a future districtwide fine arts center, a project of the 2014 Bond Program.
"This district has quite the reputation for our fine arts program," AISD Chief Financial Officer Cindy Powell said to the meeting's attendees.
She also noted the district was recently named one of the Best Communities for Music Education by The National Association of Music Merchants Foundation.
The future fine arts center will continue and enhance the AISD's strong fine arts tradition. Intended to serve all students throughout the district, the 108,000 square-foot facility will include a 2,500-seat performance hall, a small theater, classroom space, gallery space and an instrument repair center.
Construction is scheduled to begin in the second quarter of 2017, with the building to open in the fall of 2018.
"We think this project is going to be a great showcase for our school district," Javier Fernadez, AISD director of facilities planning and construction, told the meeting's attendees. Then he reviewed the requirements for submitting qualifications for architectural services and explained that work will be awarded based on a review of the qualifications and interviews.
The deadline for responses to be turned in is April 14, 2016 by 2:00 p.m.
Questions should be submitted in writing to Tammy Craig at tcraig1@aisd.net by April 4.
Responses should be mailed in or hand delivered to the Purchasing Department at the AISD Administration building located at 1203 W. Pioneer Pkwy, Arlington, TX 76013.