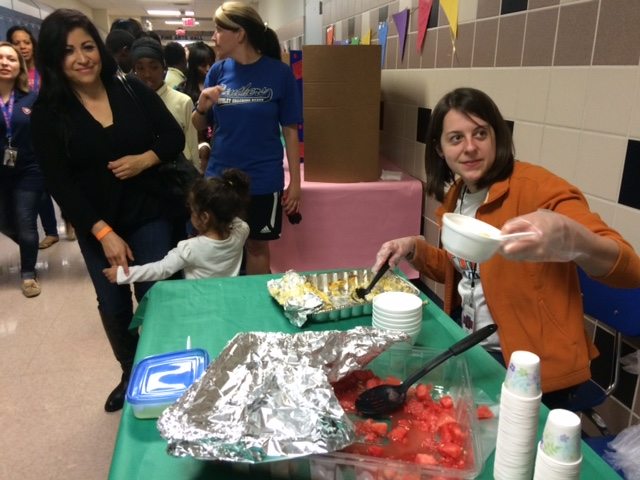 April 26, 2015 - Ousley and Ferguson Junior Highs hosted a joint Cultural Festival on Friday, April 24, at the Ousley campus to celebrate the diversity that exists at the two schools and around the world.
The two junior highs will consolidate next year and decided to do the event together to jumpstart the process of unification. Though the event was held at Ousley, which is also where the consolidated junior high will be located, students from both schools displayed artwork and research about other countries. They also enjoyed face painting, games and food from multiple cultures.
"I think tonight is really fun bonding," said Charles B., an eighth grader from Ferguson. Charles and Jehan A., another Ferguson 8th grader, had volunteered to work at the festival and helped welcome attendees. Charles explained that the event was giving Ferguson and Ousley students the chance to meet and get to know each other.
Lora Thurston, now the principal for both junior highs and for the future consolidated school, is promoting joint activities this school year to help students and faculty when they consolidate next school year. The two schools also shared a joint AVID induction on April 1, will share a combined National Junior Honor Society induction on May 8, and will host a dance for all incoming 7th graders on May 1.
Ferguson students are moving to Ousley next year as a part of changes associated with the 2014 Bond package. A districtwide facilities assessment revealed Arlington has more facility capacity at the junior high level than it needs. As a result, two junior highs will be closed, including Ferguson, to make room for other district needs. In Ferguson's case, the junior high students will move to nearby Ousley so the Ferguson building - to be renamed Ferguson Education Center - can become the home for two alternative schools: Newcomer Center and Venture High School.