Ferguson's final concert to feature piece composed by alumnus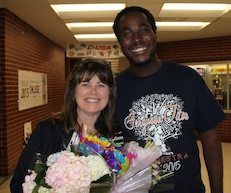 May 22, 2015 - Ferguson Junior High Orchestra's grand finale, May 26, will conclude with a piece written especially for the concert by Ferguson alumnus Victor Musasia.
Victor just finished his freshman year at the University of North Texas and wrote "Titans Last Stand" to honor his junior high as it finishes its final year.
Ferguson will close at the end of the school year and its students will consolidate with Ousley Junior High next year. (Read more about Ferguson closing.) But the orchestra has one last concert, May 26th, at 7 p.m., in Bowie High School Auditorium. Everyone is welcome to attend and help celebrate the legacy of Ferguson.
When Ferguson Orchestra director Mary Cliborn approached Victor about playing one of the songs he wrote while in junior high at the upcoming concert, he said, "No, I want to write one last song for Ferguson."
Two of Victor's pieces were performed while he was a student at Ferguson. In eighth grade, when the orchestra performed his piece "Dance (GTG),"Victor and Cliborn switched places – Victor conducted and Mrs. Cliborn played cello. The piece was extremely well-received and continues to be played regularly by Ferguson musicians.
Victor's newest piece incorporates elements of "Dance" as it conveys the struggle of the Titan (Ferguson's mascot). "All my orchestra pieces have a story behind them," Victor explained. The piece begins slow, warm and inviting and quickly shifts to upbeat and dramatic. The middle incorporates extended technique to signify the Titan fighting for his life. In the end the Titan dies (just as Ferguson will close) and the piece concludes with a eulogy.
Though Ferguson is closing, Victor, and thousands of others, are the living legacy of the school and its outstanding teachers. For Victor, the music program opened doors and set him on his career path.
"I honestly think I wouldn't be where I am today if it wasn't for Mrs. Cliborn and my choir director, Mr. Cooley," Victor said. Cliborn was the one who encouraged him to write music and played his first piece in seventh grade. Today Victor is a straight-A college student majoring in computer science with a minor in music. He is planning for a career in music software development, while writing film scores on the side.
"We all really loved orchestra," Victor said about his time at Ferguson. "Mrs. Cliborn was an amazing teacher and we really just appreciated her… In eighth grade we collected money and bought her her own electric violin that everyone in orchestra signed. That was one of the pinnacle moments," Victor recalled.
Victor continues to make music with friend and fellow Ferguson alumna Caitlynn Reeves under the name My Avenue West. Click here to listen to one of their most recent songs featuring another AISD alumna Adriana Medina.