Why build a Career and Technical Center?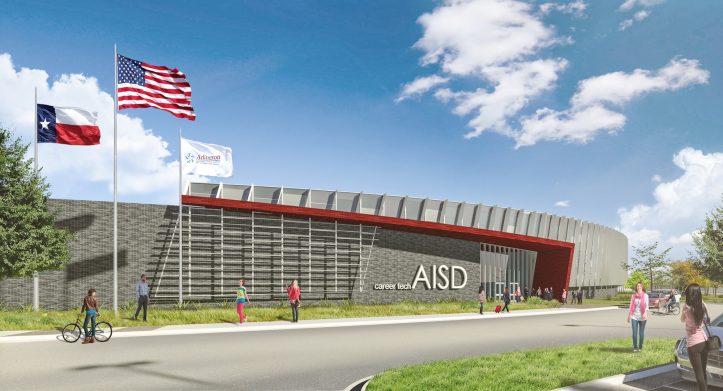 One of the largest projects in the 2014 Bond package is the Career and Technical Center (CTC). This brand new building, scheduled to open in the fall of 2017, will offer AISD students a wide array of relevant career courses in a world-class facility.
This article examines why the CTC is needed, the scope of the CTC and the progress made in designing it.
Why build a CTC?
In the AISD's strategic plan, the district set an objective that "100 percent of students will graduate on time and excel at their school or career of choice." Career and technical education (CTE) classes play a foundational role in achieving this goal and preparing AISD students for life after high school. "We have a place in career tech for every student," said Craig Wright, director of career and technical education.
The demand for these classes is high and continues to grow. Students, along with parents, recognize the value of career and technical education courses. With the changes instituted by House Bill 5, passed by the Texas Legislature in 2013, more students are looking ahead to their future and realize they want and need career and technical education courses. Under HB 5's changes, each incoming ninth grader is required to choose an endorsement in one of five areas that then steer their elective choices in high school. The five endorsement areas include science, technology, engineering and mathematics (STEM); business and industry; public services; arts and humanities; and multidisciplinary studies.
The AISD's CTE staff has been aggressive in attempting to meet the need and demand for CTE classes and provide real-world experiences and skills that translate into a job right out of high school or make a student more qualified on his or her college application. The CTE department currently offers students the opportunity to earn industry certifications in 17 different areas, including, among others, Certified Nurse Assistant, Microsoft Office Specialist, National Registry Emergency Medical Technician, Texas Commission on Fire Protection, and Texas State Cosmetology Operators License. CTE programs also offer technical dual credit, classes from which students earn both high school and college credit. Workforce dual credit opportunities include programs such as Automotive Engine Analysis Technician, Cisco Support, Culinary Arts, Game and Simulation Programming, Health Information Technology, HVAC Technology, and Welding. And programs like the AISD fire academy, the AISD police academy, Ready Set Teach (for future teachers), health sciences and others offer practical skills that match the demands of the current jobs marketplace. The CTE department also has a growing internship program, pairing students with local businesses. This year Lockheed Martin accepted five AISD students for engineering internships – the company's first-ever high school interns – and will accept 13 AISD student interns next school year.
The CTE department currently offers 95 courses and needs to add more to fulfill student course requests. However, there simply is not room for these additions. The high schools are currently at full capacity. Without any available space, the CTE department is unable to add any new programs, courses or teachers.
However, beginning in the fall of 2017, the Career and Technical Center will change all that.
Scope
The Career and Technical Center will increase the district's ability to provide CTE programs to more students in a cutting edge, world-class, purpose-built facility. It will also help free up space at the existing high schools.
With 169,800 square feet, the two-story building will have 922 seats per class period, allowing it to serve approximately 2,400 different students per day. Courses will primarily be available for junior and senior level students. Students will remain enrolled at their home campuses but travel to the CTC for certain classes. Programs housed in the CTC will include animation, architectural design, automotive technology, broadcasting, building maintenance technology, cosmetology, culinary/hospitality, engineering, fire academy, graphic design, health sciences, horticulture and floral design, information technology, law enforcement, marketing and entrepreneurship, photography, precision manufacturing and welding.
These programs may evolve over time. "Our programs should change," Wright explained. As demands in various career fields change, CTE programs should change with them, he said. To accommodate change, the CTC is being designed for flexibility. Some of the program areas within the building will be, as Wright described them, "a big box," easily transformed to accommodate a different program.
"What can we create that is new?" Wright asked as he described the design process for the CTC. He and his staff take a forward-looking, proactive approach to teaching career and technical education. They are in the process of rewriting the curriculum for all 95 of their current courses and are considering what to offer in the future – perhaps courses in robotics and other high tech fields.
One field that is already a high priority is health sciences, as healthcare is a growing industry that offers tremendous career opportunities for young people. The CTC will include seven health sciences labs to train students and give them a jumpstart for careers in health, nutrition, patient care and medicine.
The collection of so many CTE programs under one roof will afford ample opportunities for cross-curricular cooperation. For example, the culinary program can partner with horticulture, which will have a greenhouse, and actually prepare food grown on site. The culinary program will also be able to incorporate elements from health and nutrition. Graphic design or animation classes, which are under IT, might work with broadcasting or photography. And the list goes on.
Students interested in IT may also get the opportunity to participate in an internship with AISD's new data center, which will be housed in the CTC. The district currently has three data centers spread out across Arlington. But none of them are "real" data centers, said Lance McCutchen, AISD director of network services. He explained that the three centers are somewhat makeshift, patched together over the years as network demand materialized and then grew at a rapid rate. The CTC will bring everything together under one roof, into a carefully and purposefully-designed, high-functioning data center that will significantly improve the district's network capabilities and security. The center will include plenty of power and air-conditioning, a generator and multiple UPSs (uninterruptible power supply). It will also be contained within a secure structure with reinforced walls built to withstand inclement weather.
Progress
The AISD career and technical department and facility staff have already put lots of time and work into planning the CTC. After many meetings and consultations with community members and industry experts, along with design charrettes hosted by VLK Architects, schematic designs were presented to and approved by the AISD Board of Trustees on April 2, 2015. By the end of June, design will be complete. The construction firm, Balfour Beatty, will then begin producing construction documents and bidding the projects. Construction is slated to begin in early 2016 with substantial completion by July 2017.
The center will be built at 2101 Browning Drive at the current location of Hutcheson Junior High. Hutcheson will be torn down this summer to make way, while Hutcheson's students will consolidate next year with Workman Junior High. A districtwide facilities assessment conducted in 2013 revealed the AISD has overcapacity in terms of facilities at the junior high level, leading to the decision to consolidate Hutcheson with Workman (along with the consolidation of Ferguson and Ousley Junior Highs).
The Career and Technical Education Center will truly be a game-changer for AISD students. The technology-rich, state-of-the-art building will allow the district to provide relevant, innovative, student-centered programming for every single student.
Click here for a brief overview of the CTC with pictures of the schematic design.