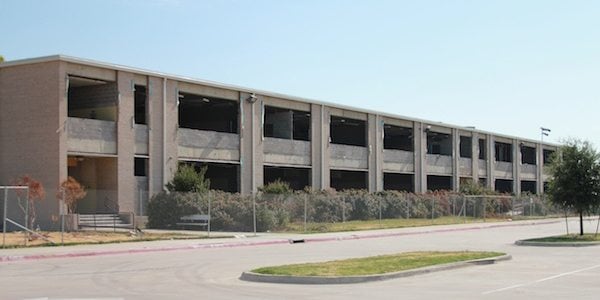 Aug. 14, 2015 (updated Oct. 12, 2015) - Hutcheson Junior High is now closed for good and preparations for its demolition are underway. Once the building is torn down, the AISD will begin construction on a districtwide state-of-the-art Career and Technical Center. But getting to that point is a long, intensive process.
First, the AISD moved all the furniture, technology, books, memorabilia and supplies out of Hutcheson, most of which went to Workman Junior High. Then on June 15, the notice to proceed with demolition was received and phase one of the process began. Demolition of the ceiling – pulling out the grid and tile and tying up the lights – started first. Then the most time-consuming part – asbestos abatement – began.
The abatement is being done in chunks, one hallway at a time, and is now nearing completion. Corey Robinson, AISD safety coordinator, explained that a significant amount of wall systems and wet area tile, among other building materials, are in the process of being removed under required containments to prepare for demolition. The asbestos must be removed and the area cleared before proceeding to the next phase.
"The hazards associated with asbestos and our strong emphasis on health and safety in this district are core reasons why a comprehensive survey and a well-managed abatement process are crucial," Robinson said. "We want to work quickly, but we want to be thorough."
The abatement is scheduled to wrap up in the middle of November, and then phase two of the demolition will begin shortly after. At that point, bulldozers will be brought in and the Hutcheson building will come down.
Substantial completion of the demolition is expected in early 2016, with construction of the Career and Technical Center to begin shortly after. Completion of the new center is planned for the summer of 2017.